ALL ELITE WRESTLING DYNAMITE/TBS: Paul Wight says Xavier McDaniel was first to tell him to wrestle, no future in hoops (TMZ.com)
---
Posted on 11/15/123 by Casey Carver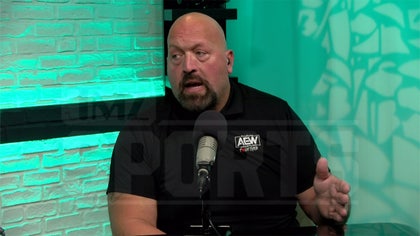 Paul Wight Says Xavier McDaniel Was First To Tell Him To
Wrestle, No Future In Hoops

11/15/2023 12:10am PST

Paul Wight is returning to the ring Wednesday night ...
something that might never have happened if not for former
NBA star Xavier McDaniel, the first person to tell the
Superstar formerly known as Big Show to go into professional
wrestling!

Wight dropped by the TMZ offices on Tuesday and sat down
with Babcock on the TMZ Sports TV show -- ahead of AEW
Dynamite's Like A Dragon Gaiden Street Fight match -- where
the guys discussed the 7-footer's start in the sport to his
in-ring comeback.

The Wight the Wrestler origin story is pretty crazy.

Paul was a center on the Wichita State basketball team in
the early '90s, but wasn't exactly Shaquille O'Neal on the
court.

Because of his play on the hardwood, McDaniel, a Shockers
alum who'd become an NBA star after being drafted with the
4th overall pick in 1985, gave Wight some invaluable advice
... and perhaps paved the way for him to become a titan in
the wrestling industry.



"X was always pestering me, and he kept telling me I should
go into wrestling. I said 'Man, listen, I'm gonna play in
the NBA. That's what I've trained for since I was a kid.
This is what I do,'" Wight recounted telling McDaniel (this
story starts around the 14-minute mark).

"[Xavier] says, 'Man, you're gonna be the only 7-foot dude
who gets cut by the Japanese team. He goes, 'I'm telling you
what you need to do. You need to go into pro wrestling and
be Andre The Giant's son.' He says, 'Man, you look like
Andre. That's what you need to do.'"



"Xavier McDaniel saw the vision on the wall long before it
ever happened."

Shortly after, Paul linked up with Hulk Hogan and Eric
Bischoff ... and the rest is history.

Now, Wight's wrestling again at 51 years old (it's been a
bit since he's performed in the Squared Circle, though he's
been signed to AEW since '21) ... and he's teaming up with
Kenny Omega, Kota Ibushi, and Chris Jericho to take on
Hobbs, Konosuke Takeshita, Kyle Fletcher, and Brian Cage.

How much longer will he wrestle? Check out the full
interview [below]-- we asked him.

In addition to Wight's match on Dynamite, AEW Full Gear, a
PPV event, is going down this Saturday ... and Paul
previewed some of the matches he's most looking forward to!

---