INDIES HELPING THEIR COMMUNITY/CANADA: Chinlock Wrestling September 16 Chinlock for Charity Tyendinaga Mohawk Territory, CA results; to benefit Indigenous organizations in Tyendinaga Mohawk Territory
---
Posted on 9/19/123 by Chinlock Wrestling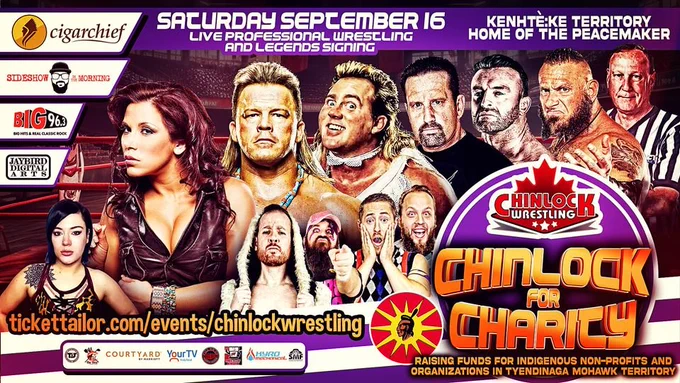 Chinlock for Charity
Sept. 16
Tyendinaga Mohawk Territory
Attendance: 400

Kale Murphy Memorial Championship
Deeno Benjamin (c) w/Chaz Lovely def. Carter Mason

Chinlock Tag Team Championship
Freak Nation def. The Brothers (c) and Fear The Beard

Chinlock Rumble to become No. 1 contender for the Kale
Murphy Memorial Championship

#17 entrant Chaz Lovely, dressed as Kingston Frontenacs
mascot Barrack The Bear eliminates Shawn Murphy.

Chinlock Heavyweight Championship match
Sam Kelly (c) def. Jessie Mack, Vanna Black and Wanda Delrey
Nick Aldis w/ Mickie James def. The Natural Nick Sullvan

Impact Wrestling Digital Media Championship match
Tommy Dreamer (c) def. Kon with special enforcer Earl Hebner
in an Extreme Rulz Match.

---