Brew City Wrestling returns to Waukesha, WI on June 16/17
---
Posted on 5/26/123 by Nic Jacobs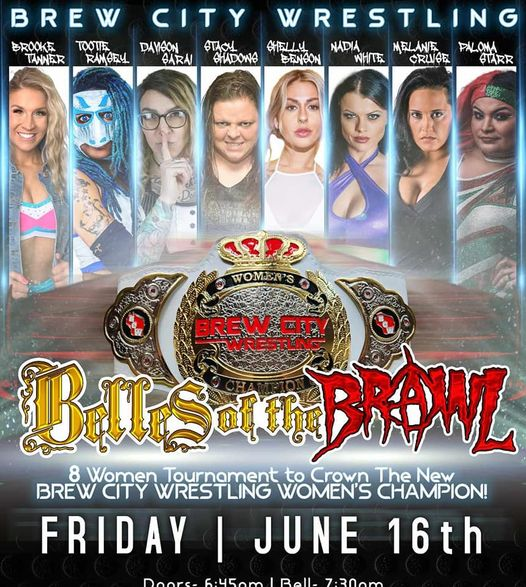 Brew City Wrestling presents "Belles of the Brawl", an all
female event to crown the new BCW Women's Champion on
Friday, June 16 at the Elks Lodge 400, 2301 Springdale Rd.
in Waukesha, WI. Combo packages available for June 16 & 17
"Lethal Lottery".

Front Row: $40($10 savings) or $25 at the door. General
Admission: $30($10 savings) for both nights or $20 at the
door. Bell time is 7:30pm, doors open at 6:45pm and tickets
go on sale. Meet & greet with all the women at 6pm, $10 plus
fee from woman for their merch.

But, if anyone is looking for individual $25 ringside
tickets for June 16 "Belles of the Brawl and June 17 "Lethal
Lottery" shows , you can send an email to
brewcitywrestling1@gmail.com and let us know how many you
need and where you want to sit, then PAYPAL the money to
brewcitywrestling1@gmail.com with the amount.


Quarter-final match
"Midwest Slayer" Stacy Shadows
-vs-
"Sriracha Muchacha" Paloma Starr

Quarter-final match
"Blonde Bombshell" Shelly Benson
-vs-
Brooke Tanner

Quarter-final match
Davison Saria
-vs-
Melanie Cruise

"Little Blue Dragon" Tootie Ramsey
-vs-
Nadia White
Card Subject to Change
Twitter: @BCW1
IG: BrewCityWrestling
Facebook: BrewCityWrestling
brewcitywrestling.com

****************************************************

June 17
LETHAL LOTTERY
Elks Lodge 400
Bell: 7:30pm Doors: 6:45pm

Lethal Lottery Match
"Apex Athlete" CJ Cole & Josiah Vatsana
-vs-
Myles Mason & "Real" Brock Hall

Lethal Lottery Match
Dysfunction & Yeti Henderson
-vs-
"Unholy One" Shawn Priest & Houa Meng

Salem Crane
-vs-
Adam Grace

More matches announced soon!


---