AS I SEE IT May 22: What do we know, and what don't we know?
---
Posted on 5/22/123 by Bob Magee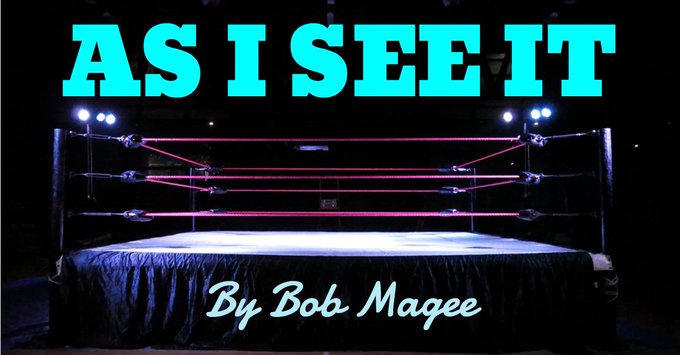 AS I SEE IT
Bob Magee
Pro Wrestling: Between the Sheets
PWBTS.com


This past Wednesday was the big day for All Elite Wrestling
as the Warner Brothers Discovery Upfronts took place, with
many expectations by fans, at least a number of which were
unfulfilled, at least Wednesday.

What do we know, and what don't we know?

Here's what we know:

Warner Brothers Discovery officially announced AEW:
Collision on Saturday, June 17, as Kathleen Finch,
Chair/Chief Content Officer, US Networks Group, Warner Bros.
Discovery, during their 2023 Upfront presentation at Madison
Square Garden in New York last Wednesday. It was announced
as a live, two-hour, weekly in-ring Saturday show from 8:00-
10:00 pm ET.

Finch announced: "In only four years following "AEW:
Dynamite," AEW's footprint has more than doubled across TNT
and TBS. Along with 'AEW: Dynamite,' Friday night's 'AEW:
Rampage,' the recent follow-doc 'AEW: All Access,' and now
'AEW: Collision,' TNT and TBS deliver the best matches and
most entertaining moments in professional wrestling today.
AEW has reached 23M total viewers so far this year across
all of its shows on TBS and TNT.*

Jason Sarlanis, President, Turner Networks, ID and HLN,
linear/streaming said "We're doubling-down on wrestling with
'AEW: Collision,' which gives fans two more hours every
week.... AEW's roster of talent has expanded so quickly that
we felt it needed another night to bring our audience the
epic rivalries, unforgettable matches and stars they love to
watch. Adding 'Collision' to our programming mix on TNT will
allow us to satisfy the massive demand we've felt from our
hardcore fanbase and be the ultimate compliment to 'AEW:
Dynamite' on TBS."

Tony Khan, CEO, GM and Head of Creative of AEW said. "With
the addition of 'AEW: Collision' on TNT, I'm extremely proud
that a Turner network will be the home of Saturday night
wrestling for the first time in more than two decades...the
debut of 'Collision' is significant across numerous sectors
including television, wrestling, entertainment and sports,
and reinforces AEW as the bold property we envisioned when
we launched in 2019. 'Collision' will deliver live every
Saturday night more of what fans and viewers tell us they
want – athleticism, big personalities, exciting storylines
and hard-hitting wrestling action, all of which have become
synonymous with AEW."

AEW has announced five locations that will host Collision.
In addition, the location of the debut episode of on
Saturday, June 17 will be announced this Wednesday night on
Dynamite.

Those announced locations are:

Saturday, June 24 – Scotiabank Arena in Toronto, ON.
Thursday, June 29 (Special Taping) – FirstOntario Centre in
Hamilton, ON.
Saturday, July 8 – Brandt Center in Regina, SK.
Saturday, July 15 – Calgary Stampede - Saddledome in
Calgary, AB.

Tickets are on sale now for all these Collisions via
Ticketmaster.ca.

Saturday, July 22 – Prudential Center in Newark, NJ. Tickets
are on sale via Ticketmaster.com.

Here's what we DON'T know:

1) How much will AEW receive for Collision? How long is the
show contracted for?

No terms have been made public as of yet.

2) What about the reported streaming deal?

As of here, now, today... there is no announced streaming
deal with Warner Brothers Discovery and MAX.

What we do know is that Warner Brothers Discovery President
CEO David Zaslav has made clear that news and live sports
will be a part of the new MAX service, and said so again at
the Upfronts. HBOMAX is already home to the US Men's and
Women's National Soccer Teams and airs their matches, so the
capability for airing live events already exists.

HBOMAX HAS added the six episodes of AEW: All Access, which
will air beginning of June 9. So... it's clear there is an
intent to add at least some AEW programming.

Zaslav also indicated there would be access to the channels
under the Warner Brothers Discovery umbrella (which would
presumably include TBS and TNT).

We may need to wait until this week's MAX launch to see what
the new application features are, at least at the beginning

3) What about the rumors of a new overall deal for AEW and
Warner Brothers Discovery?

Some have claimed that this was nothing but a rumor. Yet
when Wade Keller of Pro Wrestling Torch and Dave Meltzer
report at least the presumption of some sort of deal, and
debated about what a good or bad deal would be...the
information came from someone, somewhere. Whether or not
that deal is being negotiated, and not yet official I don't
pretend to know. But it wasn't invented out of whole cloth.

Fightful Select reported Thursday that Warner Brothers
Discovery is "gearing up to substantially expand their
relationship with All Elite Wrestling from both a financial
and content perspective." There was a hint that this
involves the new show Collision, in addition to possibly
more content. The streaming deal is in still in the
discussion stage. So it may not be a matter of IF something
happens, but rather WHEN...

THEN...there's CM Punk.

By all accounts, he was to be announced as the major feature
of the Collision announcement at the Warner Brothers
Discovery Upfronts. He was what that Tony Khan said was
going to be announced on TNT (presumably during Inside The
NBA). What's been alleged is that Punk wanted Ace Steel
brought back in some capacity, there has been some agreement
to do so, then at the last minute, Punk was told Steel
wouldn't go on the road..

Beyond that is anyone's guess. There are multiple versions
of events surrounding this, each insisting they are correct.
Some of those reporting this have been alleged to have
agendas involving one party or the other in the CM Punk vs.
Elite drama. Who's right? I don't have a clue and frankly,
don't care at this point. All the drama threatens to
supercede the very real fact that AEW has a new two-hour
show on Saturday nights, a major step forward for AEW.


Until next time....

---