GRAYSON WALLER: Inside Aussie WWE star Grayson Waller's Tom Brady moment — and the 'bag of chips' on his shoulder (Fox Sports)
---
Posted on 5/16/123 by Mike Informer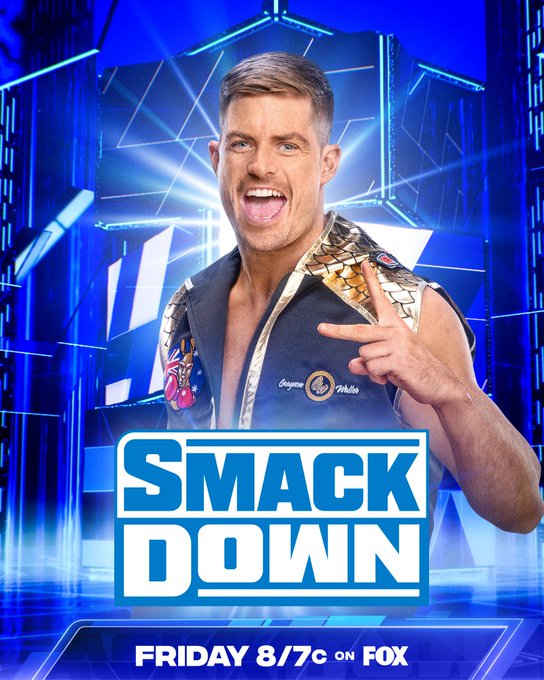 "Same Energy."

With a two-word tweet, Australian WWE star Grayson Waller
explained it all - his rise, his inspiration and what has
been stopping him time after time.

A day after finally making it onto the biggest wrestling
company in the world's main roster, joining Smackdown,
Waller sat at home in Florida donning a T-shirt featuring a
famous photo of NFL legend Tom Brady.

It was Brady, looking slim and rather unimpressive, at the
2000 NFL Draft Combine - not long before he would be
repeatedly snubbed.

Brady, the eventual seven-time Super Bowl champion and
widely considered the sport's GOAT, was taken with the 199th
pick. Six quarterbacks were taken before him.

Waller knew how he felt. He'd been invited to sit through
both nights of WWE's most recent Draft, televised across
Smackdown and then Raw, as the two brands selected their
rosters from the entire pool of talent both at the top level
and in the developmental NXT brand.

A handful of NXT wrestlers were called up. But Waller sat
there, waiting to hear his name, across five full hours of
television - despite being arguably one of the most
talented, and certainly the most ready-made, among the
group.

Eventually he got the call-up; but not during the TV
broadcast. He wasn't deemed important enough for that. His
selection was announced online, to a much smaller audience,
instead.

And, in his mind, it was his Tom Brady moment.

"I'm not gonna lie, it was tough," the Sydney-sider told
Foxsports.com.au.

"You know, I sat there on the Friday night for you know,
four or five hours or however long it was. I saw name after
name and Grayson Waller's name wasn't picked.

"And you know, not everyone was there. Not everyone was
there. I got asked to be there. So I expected to be drafted.
And when I wasn't, I was frustrated. And I had to sit that
whole weekend and think about how low I felt.

"And then I turn up that Monday and the same thing happens.
I watched the entire episode of Raw and I'm hearing these
names picked - and there's some really talented people in
NXT who got drafted, but I'm Grayson Waller. I'm the number
one person here. My name should be drafted on television.

"So I was frustrated, and I really thought that I was gonna
sit there for two nights and not get picked - and I thought
about Tom Brady, and I thought about that, if you watch the
documentary, The Brady Six about the six quarterbacks that
got picked before Tom - and I know every single person
drafted before me. I know every NXT person that was drafted
before me.

"And when my name was called last, I wasn't elated. I wasn't
happy. I wasn't crying like everyone else. They're all just
happy to get drafted. That's their goal achieved, they're
done now.

"This is just the beginning. I took umbrage with the fact
that I was picked last. I took umbrage to the fact that it
wasn't on television. And I don't think that's the wrong
thing, I think for me, that's when I operate at my best -
and I think when you saw when I talked afterwards, that was
who I am, I was being real, I hold myself to a different
standard.

"I'm not like everyone else in NXT who's just happy to be in
the Performance Center, or happy to be on Raw now. I see
myself as one of the best and I operate best with a chip on
my shoulder, so I put a whole bag of chips on my shoulder
that night.

"I feel Smackdown got the number one pick with the last
pick. This is going to go down five years from now - when
you think about draft moments, there's so many cool draft
moments. I think Grayson Waller getting picked last will be
a moment because I'll be at this stage, and everyone'll look
back and go wow, how did he get picked so late?"

Waller's frustration was both evident and understandable
given what he has shown through his relatively short pro
wrestling career.

While many grapplers start in their teenage years, Waller
went through his early adulthood simply dreaming of and
enjoying wrestling, rather than getting involved.

He travelled the world and got a degree; he became a history
teacher at an all-boys' school in Sydney. His pet subjects
were Greek and Roman history - "anything with weapons or
fighting".

"And then I got to a stage in my life where I was like, I
don't want to be the person who looks back and goes, I
could've been so good at that if I tried," he said.

"So I kind of, at 25 was like - I have to do it now. And
thankfully I did, because it's worked out really, really
well. But it was something I always wanted to do.

"(And) I think those things kind of gave me a head start
when I did start, because I knew about wrestling so much, I
went and did MMA so I had a bit of a base fighting
background, which I think once I started, I was ready to go
- where a lot of people start, and it takes them years to
kind of get to the levels they want to be at, I kind of
skyrocketed a little bit."

But Waller took the leap into the squared circle, training
with Sydney's PWA under internationally renowned stars
Robbie and Madison Eagles, working in the Australian
independent wrestling "bubble".

Then came the breakthrough from an unlikely source - reality
TV.

Australian Survivor fans may remember Matty, the cocky,
athletic, blonde-haired member of the Contenders tribe in
2019's Champions vs Contenders season - who made his mark
with wrestling-style promos after strong challenge
performances.

One saw AFL commentator Abbey Holmes call him "an actual
idiot" - but that was kind of the point.

The wrestling cliche is the best characters are you turned
up to 11; on Survivor Waller was turned up to an 8 or 9, and
it helped him stand out.

"I was very smart about that, because I got to a stage of
Australian wrestling where - you've been around the scene -
it's hard to actually get your name out on a level outside
that indie wrestling bubble. There's like a bubble. And it's
impossible to escape," he explained.

"So I looked around and like, I love reality TV, and managed
to find my way onto Survivor. And I think that just opened
some eyes, and I went into that show being like, I want to
be Grayson on this show. I don't want to go in there and
just be this boring person, I want to be Grayson. And I
think I was largely.

"The problem was I had no food and was sitting in the cold
all the time, so energy levels were lacking, whereas if I
think if I'm got like a Love Island, or one of those stupid
shows, you would have seen the full Grayson.

"But just having that TV experience, being behind the
camera, and being able to talk and those type of things, I
think that benefited me hugely. And obviously as well, it
got enough eyes on me that a lot of people started paying
attention who weren't before."

Waller's career took a leap forwards post-Survivor, earning
him more bookings around Australia and better positions on
the card, before WWE showed interest and signed him to a
deal in 2021.

Given his skills he was quickly given a shot on TV, on the
revamped NXT brand which was focusing on younger wrestlers -
rather than the 'best of the independents' vibe fostered
under Triple H for many years.

That revamp worked in Waller's favour, because he was a
fresh face, but also clearly more talented and ready for TV
than many of the younger, less experienced wrestlers in
WWE's cavernous Performance Center training base.

Of course, not every wrestling fan saw his quick surge up
the ladder things that way.

"For a long time, there was all negative energy about
Grayson Waller," he explained.

"I will never forget being put in War Games (a special cage
match on a major show) and seeing comment after comment of
like, who is this? Why is he in it?

"I was in the cage, like the little cage (on the stage)
waiting to go in at War Games, and the crowd was chanting at
me 'who are you?' And like, I'll never forget that feeling.
That's something that I'm going to put in my heart. And
every single time I go out to wrestle, I think about that.

"Because now people are jumping on the bandwagon going, 'Oh,
we love Grayson', I hate that. Where was that energy when I
started? I didn't get good. I was always this good. People
just didn't give me the opportunity.

"So other people's thoughts don't validate me. My bosses,
the important people, the coaches at the PC, the producers
here, the top wrestlers here, their opinions and their
thoughts will validate me. Flops on Twitter who don't know
anything, who've never done a push up and have no idea about
what wrestling really is. They don't validate me at all."

Yet he continued to prove himself and earn greater
opportunities. He attacked the beloved Johnny Gargano on the
latter's apparent exit from WWE - a feud renewed with a
spectacular unsanctioned match at NXT's WrestleMania weekend
show this past April - along with battling former world
champion AJ Styles, winning a feud with main roster member
LA Knight, and challenging multiple times for the NXT
Championship.

Waller even feuded with the legendary Shawn Michaels, the
on-screen NXT authority figure and off-screen booker, who
rarely makes appearances these days - showing how highly
Michaels and the WWE higher-ups rate the Aussie.

"No one in recent years can say that they were in the ring
with Shawn Michaels. Even though it wasn't in a wrestling
capacity, like I wanted, like, that's one of the greatest of
all time and I was in there. And that doesn't happen. So
that was very big for me," Waller said.

"But also, WrestleMania weekend in the Staples Center -
that's Kobe Bryant's house. That was wild for me. And I took
umbrage with the fact that I wasn't the main event. I was
upset about it. And I went out there to, to prove people
wrong, I wanted to go out there and go, 'I'm the best in
NXT, hands down'.

"And I think that match against Johnny, it sucked. It hurt a
lot. I was in a lot of pain for a lot of days. But people
left that NXT show talking about Grayson Waller, people left
WrestleMania weekend talking about Grayson Waller. And when
you look at how talented the NXT roster is, and how many
good people there are, I took a lot of a lot of pride out of
people talking about me."

Now Waller enters a new phase of his career on Smackdown, in
front of the biggest weekly audience he's ever had, and with
the biggest opportunities.

The aforementioned AJ Styles, a living legend of the
wrestling industry, looms as his next rival as he's set to
appear on Waller's in-world 'talk show', The Grayson Waller
Effect.

Waller concedes Styles was the number one wrestler on the
list of guys he was keen to work with when he signed with
WWE.

"When I was a teenager, AJ Styles was my favourite wrestler.
I got the opportunity to see him on a tour in Sydney when I
was probably like 14-15. So I was always a big AJ fan,"
Waller said.

"So he was always number one, and the fact that got to do it
in NXT (feud with him) was wild. But that night was so
important to me - because I feel like I didn't just hang in
there with him. It wasn't a situation where like, 'oh, wow,
he hung with him'. I think I went in there, and I competed
against him. And I kind of showed who I was.

"But I lost. So at the end of the day, I can't take anything
positive from it, because I lost - and that's something that
I've thought about a lot.

"And now he's gonna be on my talk show this week, you know,
Saturday morning on Binge on Smackdown. And I think that's
the biggest name you could possibly get.

"And I need that rematch, lad. I need that so bad. I hate
losing. I hate losing so much. And I hate the fact that he
can say he beat me. So I need to change that."

Waller should get that chance.

And, based on how he typically goes when he gets a chance,
he should get what he wants.

---