AS I SEE IT May 15: The audacious gamble...goes to the MAX?
---
Posted on 5/15/123 by Robert Magee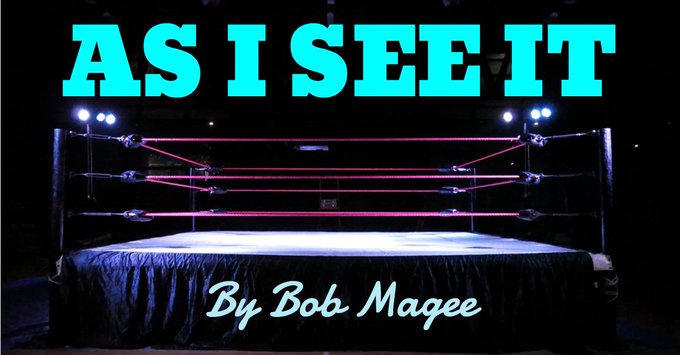 AS I SEE IT
Bob Magee
Pro Wrestling: Between the Sheets
PWBTS.com


Dave Meltzer of the Wrestling Observer reported last week
that Warner Brothers Discovery and AEW will be announcing
their new television deal during the Warner Brothers
Discovery upfronts event this week.

The event takes place this Wednesday at The Theater at
Madison Square Garden in New York on Wednesday, May 17.
AEW's new Saturday night television show, tentatively titled
Collision, will be part of the announcement on Wednesday.
The show is rumored to kick off on June 17 from the United
Center in Chicago, IL with the return of CM Punk.

Other sources, such as Fightful.com, have confirmed that
Collision will be announced, but have not yet confirmed that
the full TV deal will be announced Wednesday, although do
expect it to occur in the immediate or near future. In
Meltzer's version of the story, he has indicated that there
are a variety of numbers regarding length of contract and
amount of money WBD is paying AEW. But at this point, he
states that, nothing is truly confirmed.

Meltzer believes, as do others including Fightful.com's
Jimmy Van, that AEW is getting a solid increase in TV
rights. The current TV deal ends at the conclusion of 2023
with an option year of 2024. A new overall deal would
involve WBD properties getting exclusivity on AEW
television, which would explain why the AEW Dark and Dark:
Elevation were recently cancelled from YouTube. The only
question appears to be if that is being announced Wednesday.

One rumor went so far as to suggest that AEW would receive
$1 billion over five years. Bryan Alvarez put forth what is
the only plausible scenario for this to take place: for it
to encompass Dynamite, Collision, Rampage PLUS the four-plus
year AEW library AND all future pay-per-views airing on MAX.

That rumor has been out for several days, and it's notable
that neither AEW or Warner Brothers Discovery have made any
attempt to debunk it (which AEW often will when something
outrageous comes out, or Tony Khan responds with a "no
comment").

As said last week, there is a fairly strong belief by many
that ALL IN at the very least. will be aired as a special on
the new MAX streaming service, or as a special on TBS or
TNT.

Given the fact that ALL OUT IS apparently still taking place
in Chicago only seven days later on PPV (and has been
confirmed as tasking place by AEW/Jacksonville Jaguars Legal
Counsel Megha Parekh), it's difficult to imagine 2 PPVs
within a week, unless ALL IN and ALL OUT were made into some
sort of package deal, which would be a nightmare for PPV
companies to try handling logistics for.

Warner's B/R Live streaming app is no real alternate option,
as its legendary issues with streaming and bugginess
wouldn't allow it to be an option for even those willing to
view AEW programming in general and ALL IN/ALL OUT via
streaming.

Warner Brothers Discovery President CEO David Zaslav has
made clear that news and live sports will be a part of the
new MAX service. HBOMAX is already home to the US Men's and
Women's National Soccer Teams and airs their matches, so the
capability for live events already exists.

There are all sorts of other possibilities for a new deal,
including a TV only deal with a contract for 3 or 4 years
for a significantly larger amount. We'll need to see what
actually occurs starring Wednesday.

Meanwhile, the latest reported total from the latest
Wrestling Observer Newsletter (from earlier last week)
indicates AEW: All In has sold over 62,000 tickets, with
65,854 tickets "out" to what are presumably corporate
business partners of the Khans (AEW/Fulham FC/Jaguars),
advertisers and Warner Brothers Discovery officials, with a
gate of $7.9 million and over.

Right now, Wembley Stadium is set up for a capacity of
74,000, but is expandible to reflect further ticket sales
that will undoubtedly occur as matches are announced.

Until next time....

---