WAR Wrestling returns to Lima, ON on April 15
---
Posted on 3/17/123 by P.O.W.E.R.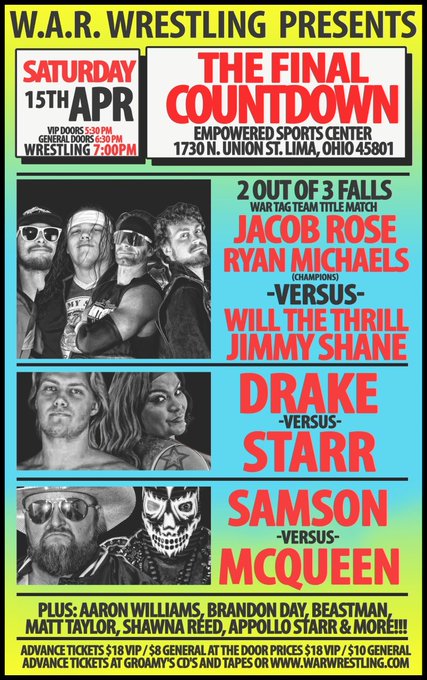 Advance tickets at Groamy's Cd's and Tapes 1206 W. Robb Ave.
or http://www.warwrestling.com

Tickets CAN be bought at the door!!! $18 VIP / $10 General

VIP Doors 5:30pm
General Doors 6:30pm
Wrestling 7:00pm

Already Signed:

Ryan Michaels / Jacob Rose w/ Agent Nick Hahn
-vs-
Jimmy Shane / Will The Thrill

Carson Drake
-vs-
Paloma Starr

Jack Vaughn
-vs-
Qassius Starr

Shawna Reed
-vs-
Alexis Littlefoot

Jock Samson
-vs-
Mojo McQueen

Plus: Harley Fairfax, Brandon Fields, Appollo Starr, Aaron
Williams, Beastman w/ Jexy Blakk, Brandon Day, Matt Taylor,
Kronos the Berserker, Zodiak The Mystic, Scotty Amos, Gino
DeCapo, Tommy Irish, Ripper Blackhart & More.

---