AS I SEE IT January 23: Thoughts on Jay Briscoe
---
Posted on 1/23/123 by Bob Magee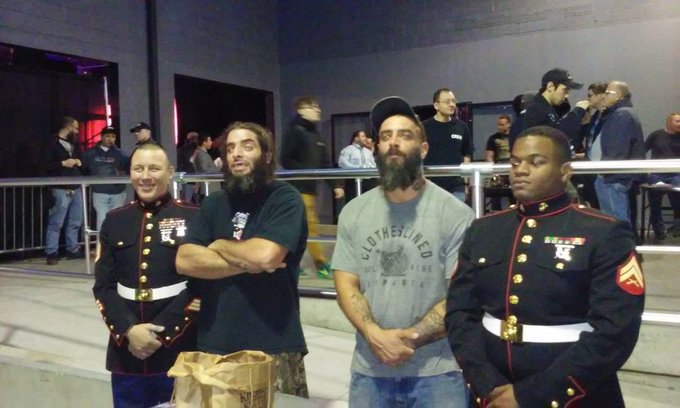 AS I SEE IT
Bob Magee
Pro Wrestling: Between the Sheets
PWBTS.com


There are days where I feel extremely old. As I write this,
today...hell, the last week... has been full of them.

Heaven gained another star last Tuesday as Jamin Pugh, known
to wrestling as Jay Briscoe, was killed in a car accident in
Laurel, DE. He was 38 years old.

The Jay I knew wasn't the multiple time tag team champion in
multiple companies with **** and ***** matches who thrilled
wrestling fans all over the planet. Hundreds of people can
talk about that Jay Briscoe, have, and will continue to do
so over the coming days and weeks.

Instead, the Jay Briscoe I got to meet was the polite, well
brought up young man whose parents supported his early
career, including the night mom Jana was in tears watching
Jay wrestle brother Mark for the first time at a CZW show at
Champs indoor soccer arena what seems like 2 or 3 lifetimes
ago.

It was the Jay Briscoe who came with his brother Mark out to
the lobby of the 2300/ECW Arena where we were doing a Toys
for Tots collection at the December 18, 2015 Ring of Honor
show...the first night of Final Battle.

Jay and Mark came out and signed fan pictures before the
show, and again during intermission to try to encourage toy
donations. They helped us collect 200 toys.
The only thing they seemed to want was a picture with the
Marines escorting the toy boxes. I still have that picture
today on my phone.

Despite his wrestling fame, Jay was family first....his wife
Ashley, a staffer at Laurel High School, and his children
Gracie, Jayleigh and Gannon, plus Mom Jana, and Dad Mike
(aka wrestling's Papa Briscoe).

He was proud of his marriage, loved his kids, family and his
life...before anything to do with professional wrestling. He
was known for taking red-eye flights home after matches so
he could spend more time with them.

He was a Girl Dad, known on social media for doing
cheerleading dances with his daughters during the height of
the pandemic (because....well...that's what Dads do
sometimes when they love their kids) and drove his daughters
to cheerleading competitions. He coached middle school
football at his son's school. He was constantly doing for
his family and for others.

In the last act of his life, Jay was apparently again doing
for his family... driving his children to cheerleading
practice at the time of the accident.

According to the State Police report, at about 5:00 pm
Tuesday, Briscoe and his two daughters were traveling on
Laurel Road westbound in their 2019 Chevy Silverado 1500.
27-year-old Lillyanne Ternahan, traveling eastbound, failed
to stay in her lane, crossed the center line for unknown
reasons, followed by a head-on collision.

His two daughters suffered multiple serious injuries from
the accident, have already had multiple surgeries and can
anticipate a long recovery ahead. The expenses will be many.
If you'd like to donate to the Pugh family, go to
https://www.givesendgo.com/pughlove .

Something else needs to be made crystal clear about the man
Jamin Pugh. He was a caring man to all, not just some.

Certain wrestling companies and media companies held tweets
he made when he was much younger against both Jay and his
brother. But after the firestorm that followed those tweets,
he made a specific effort to learn about LGBT and non-binary
people. He asked questions. He learned. He asked for
forgiveness. He grew.

As he learned, he openly welcomed LGBT and non-binary talent
into locker rooms he was in. LGBT talent like Effy, Kiera
Hogan, Nyla Rose, Sonny Kiss, Pollo Del Mar and others made
a particular point in their memorial tweets of making sure
others knew that.

Effy's tweet said: "Jay Briscoe showed me respect and
love when everyone told me he wouldn't. If you knew Jay, you
knew he would uplift everyone in that locker room regardless
of whatever world they came to wrestling from."

I wish Warner Brothers Discovery would have understood that,
and allowed All Elite Wrestling to honor Jay this past
Wednesday night on Dynamite. Their failure to do so is a
stain on the company, and on the individual within their
management who refused to allow it.

It's a measure of the man that every (and I mean every)
promotion, including WWE on Smackdown and NXT...and as far
away as New Japan and Pro Wrestling NOAH remembered Jay this
past weekend.

Heaven did indeed gain another star last Tuesday.

My thoughts and prayers are with the Pugh family and all who
love the Briscoes during this sad and tragic time. Please
keep them in your own thoughts and prayers.

Today, hug someone and tell them you love them. God alone
only knows when you won't get another chance.

Until next time...

---