HELPING FOR THE HOLIDAYS: World League Wrestling returns to Troy, MO on December 10; canned food collection for Bread Of Life Pantry
---
Posted on 11/24/122 by World League Wrestling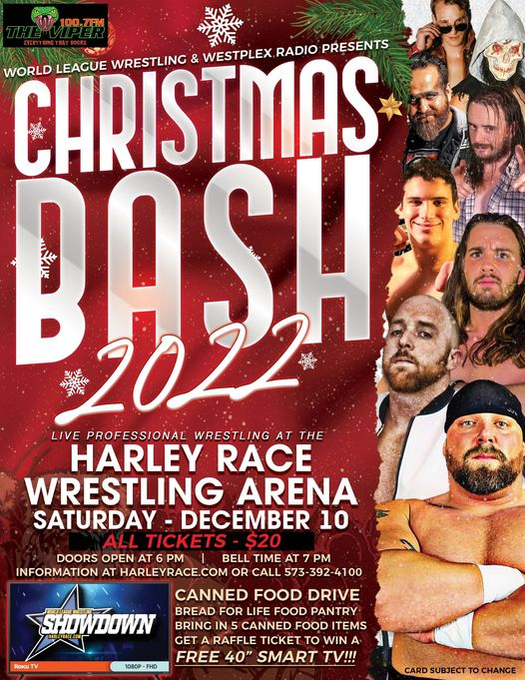 SATURDAY, DECEMBER 10, 2022 AT 8 PM bell time
World League Wrestling Christmas Bash 2022
198 Cherry Blossom Way, Troy, MO

Prior to 2020, World League Wrestling held this annual event
as a food drive for the Bread for Life Food Pantry here in
Troy and the event was put on pause for 2 years due to the
pandemic.

Now, it is back and its bigger than ever! This year, World
League Wrestling is hosting the event again at the Race
Arena on Saturday, December 10 and this will be a food drive
for Bread for Life as well as a new charity as we also going
to be helping the great people at Country State of Mind
Designs with a local family that will be getting a Christmas
thanks to Lisa and her crew. In addition to that, we are
teaming up with 100.7 THE VIPER and the great crew at the
WestPlex radio complex in Lake St. Louis to help put this
on.

We will be raffling off a brand new 40" Smart TV and you
will get the chance to win it through 2 different ways.
Bring in canned food items, or you can purchase raffle
tickets at the event itself. For every 5 cans of food you
bring in, you will receive a raffle ticket. 5 cans of food -
1 ticket, 10 cans of food 2 tickets, etc. The other way of
getting a raffle ticket is to purchase them at the event.
Tickets are $3 a piece or 5 tickets for $10. Cash raised
from raffle ticket sales that night will be donated to
Country State of Mind.

Tickets will be on sale starting tomorrow (Saturday November
19) and matches will start to be announced next week. We are
looking forward to having this event back at the Race
Wrestling Arena! Let's get the word out and have a great
Christmas season!

---