AS I SEE IT November 14: Yet more indies helping for the Holidays
---
Posted on 11/14/122 by Bob Magee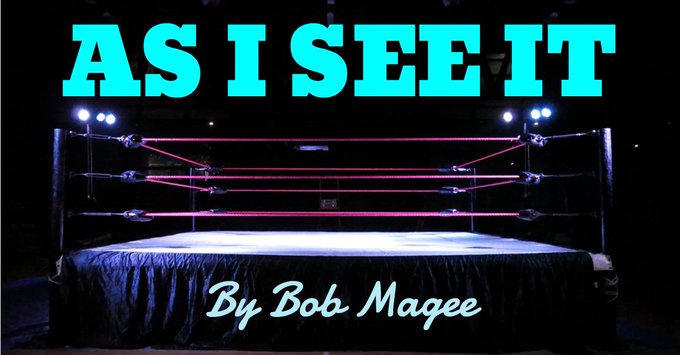 AS I SEE IT
Bob Magee
Pro Wrestling: Between the Sheets
PWBTS.com


In keeping with the season of light and the season of the
Christchild, AS I SEE IT discusses each week how the
independent wrestling community reaches out to those in
need.

Independent promotions have for years held a wide variety of
events to benefit various food pantries, fundraisers for
homeless or domestic violence shelters, and that provided
funds to efforts benefiting cancer and heart disease
victims, animal charities, natural disasters, veteran's
charities, local natural disaster cleanup/relief, other
community efforts...and lots and lots of Toys for Tots
drives.

More than a few independents, such as Hoosier Pro Wrestling
in Central Indiana, who were responsible for longtime
holiday charity efforts didn't survive the pandemic. Other
promotions have had changes since the pandemic in regular
venues they run that make these efforts impossible. But many
others have kept up or resumed their efforts now that the
worst of the pandemic has passed.

I'm asking all of you reading this blog to send me any
information on holiday themed charity shows scheduled from
now through the New Year at my bobmagee1@hotmail.com
account, or to message me through my Facebook at
https://www.facebook.com/bob.magee.180

I'll post the events here weekly, as well as how they are
able to help their communities.

---------

Here are 108 events scheduled (so far) with indies helping
during the autumn through the Holidays (11 new events
announced this past week):

* Wrestle Against Hunger returned to Tulsa, OK on
September 17, collecting and later distributing bags of
non-perishable groceries, frozen hams, potatoes, and other
items.

* Crossfire Wrestling presented FIRED UP 2022 at Merriton
Community Centre in St. Catharines, ON on September 25.
Partial proceeds from this and all shows go to the Niagara
Peninsula Foundation for Children.

* GCW Charity Wrestling/POP Culture Canada took place on
September 25 at the Royal Canadian Legion for the Kingston
ComiCon where 398 pounds of food were collected for the
Kingston Foodbank.

* All Pro Wrestling/Nevada presented Headlock on Hunger at
Reed High School, Sparks, NV raising over $10,000 for the
Food Bank of Northern Nevada.

* CanAm Wrestling worked together on September 27 with
Nanbert Manor as part of the Calgary Pop-Up Care Village
down at Olympic Plaza Calgary; handing out hygiene products,
non-perishable food items, winter wear, and blankets to all
those less fortunate people in Calgary, assisting nearly 200
people.

* Despite the beginnings of Hurricane Ian, Dangerous
Adrenaline Wrestling Gladiators held an autism awareness
show at Delsea Field in Glassboro, NJ entitled "Paws for the
Cause" in association with the Glassboro Police Department,
The Glassboro K-9 Unit and the Glassboro Parks & Recreation
Department...

* Despite contending with Hurricane Ian and numerous power
outages in the area, Wrestling with Purpose raised $650 at a
benefit show on September 30 in Pembroke, FL to assist
Victoria Jacobs, who was recently diagnosed with breast and
bone cancer.

* On October 1, the 7th Annual Hollie Yatsko Memorial Cup
took place as the Heritage Wrestling Alliance took place in
Rutherfordton, NC raising $726 benefit the Hospice of the
Sacred Heart.

* Alabama Wrestling Alliance returned to Theodore, AL on
October 1 and raised nearly $2,000 for Kane's Warrior Kids,
helping families with children fighting cancer.

* GCW Charity Wrestling/POP Culture Canada took place on
Saturday October 1, at Harmony Creek Community Centre
Oshawa, ON. The event collected 200 pounds of canned food
for the Simcoe Hall Settlement House.

* Tri City Wrestling presented the fourth annual Cassidy
Christie Memorial Cup event on October 1 in Bay City, MI. At
least $4,000 was raised for the Cassidy Christie Memorial
Scholarship Fund.

* GCW Charity Wrestling/POP Culture Canada took place on
October 2 in Peterborough, ON, collecting 150 pounds of
canned food for the Kawartha Food Share.

* ACTION Wrestling returned to Tyrone, GA on October 7 to
benefit Harts of Teal, a non-profit started by two ovarian
cancer survivors to educate and bring awareness to the signs
and symptoms of ovarian cancer, raising $756 plus direct
donations to the charity.

* Chaos4K9s and Rebelution Women's Wrestling Dog Rescue
presented DOGTOBER DAZE on October 8 at Don Kolov Arena in
Mississauga, ON; raising $5,850
for Southern Connection Dog Rescue.

* Breakthrough Community Church in Mebane, NC held its tenth
annual benefit show to help the Mebane Food Bank on October
8, with $600 between food and money donations and still
counting.

* On October 9, Independence Pro Wrestling joined in the
fight against breast cancer with its second annual PINK OUT
at Full Blast in Battle Creek, MI, raising $300 for a local
breast cancer organization.

* IWF held its 25th Anniversary Live Event on October 8 in
Arlington, NJ; raising $3,600 and counting.... benefiting
the Michael Robert Cammett Jr. Memorial Foundation.

* 1CW Pro Wrestling held Chokeslamming Cancer in Houston, DE
on October 15, raising $4,200 for local cancer charities.

* Live Pro Wrestling returned to Goderich, ON at Goderich
Memorial Arena on October 15. $6,000 (and counting) went to
the Hunter Costello Memorial Fun-dation, as part of a family
friendly night of entertainment with live matches, silent
auction, meet and greets with the performers, and a
fundraising BBQ before the event.

* GCW Charity Wrestling returned on October 15 to The
Germania Club of Hamilton, ON, collecting 50 pounds of non-
perishable food items for the local community food bank.

* Wrestle Against Hunger returned to Tulsa, OK on October
15, collecting and distributing bags of non-perishable
groceries, frozen hams, donuts and other items.

* Amped Up Wrestling presented Halloween Slam and Jam in
Inglewood, CA on October 16 to raise $2,000 for the Joan and
Harry A. Mier Center of Ability First.

* CanAm Wrestling returns to Calgary, AB on October 19, for
"Pick Your Poison" as part of their efforts with Nanbert
Manor raising $170 benefitting 500 Toys for 500 Kids.

* CanAm Wrestling returned to Calgary, AB on October 21.
CanAm Wrestling is working together with Nanbert Manor as
part of the 500 Toys for 500 Kids campaign, and raised $275
for Nanbert Manor, & $325 for the Okotoks Kids Lunch Program
at this show.

* Wrestling for a Cure raises funds for St. Jude's Hospital
for Children through wrestling shows of Illnois Elite
Wrestling ($195 so far this "season 7"), Pinfall Wrestling
Association, ($235 so far this season) and Freelance
Underground ($327 so far), as well as $1,200 through online
efforts.

* ISPW Wrestling partnered with Cold Nose Warm Heart Dog
Rescue for a fundraiser on October 21 in Hopatcong, NJ,
raising $150.

* Supreme Wrestling returned to Brownstown, IN on October
22, raising at least $1,100 for the Jackson County Special
Olympics of Indiana.

* Remix Pro Wrestling came to Marietta, OH on October 22 to
support the Humane Society of the Ohio Valley, featuring the
Lucha Brothers, raising $3,400.

* Appalachian Championship Wrestling presented Barnyard
Beatdown 2 on October 22 in Winfield, WV to benefit West
Virginia Horse Network, a horse rescue organization, raising
close to $1,000.

* UWE Pro Wrestling came to Cadillac, MI on October 22 for
Halloween Homecoming, collecting 50 bags of cat and dog food
for local animal shelters.

* On October 22, KSWA Wrestling teamed up once again with
Sam's Club Tarentum (Pittsburgh Mills) to raise
approximately $2,000 for a Children's Miracle Network
Hospitals fundraiser, to benefit the local Children's
Hospital.

* GCW Charity Wrestling/POP Culture Canada came to Bellevue,
ON on October 22 and Trenton Comicon on October 23,
collecting 300 pounds of canned and non-perishable food.

* Legacy Classic Championship Wrestling and Insane
Wrestling Alliance joined forces to bring The Harvest Bash
on October 22 as The Harvest Bash took place in Green Cove
Springs, FL, raising $150 to assist All Creations
Intertribal Native American Community in feeding county
homeless.

* WrestlePro debuted in Chicago, IL on Friday night October
28, teaming up with Hope For Us Network as they presented
"Champions Of Hope" to help support suicide prevention. The
show was termed "a huge success" with $7,400 raised.

* World's Finest Wrestling returned to Connersville, IN on
October 29 with $256 raised going to the family of Kylee
Cooper.

* IWA Productions presented its 10th annual Wrestling for a
Cause show in Mount Vernon, IL on October 30, raising $1,000
for the mammogram department at Crossroads Hospital.

* Supreme Wrestling returned to Seymour, IN on October 30,
raising $720 for The Arby's Foundation, which works with
hunger, education, and child adoption efforts.

* Wrestling with Purpose held a show on November 4, entitled
"Fight For Dwight" in Pembroke, NC, raising $800 to help
Dwight Hunt with medical costs and expenses, who had one of
largest undiagnosed brain aneurysms ever in medical records.

* Skowhegan Savings Bank and Pro Wrestling Experience
presented a fundraiser for Maine Veterans Homes on November
4 in Skowhegan, ME featuring Live Pro Wrestling including
Ring of Honor superstar Jimmy Jacobs, raising $1,000.

* Eastern Townships Wrestling Association returned to
Newport, VT on November 5 for Hunger Slam, collecting over
150 non-perishable food items for Northeast Kingdom
Community Action.

* ACWF held its Toys for Tots show in Murphy, NC on November
5 with 15 toys collected, along with numerous cash donations
for more.

* CanAm Wrestling returned on November 5 at the Kerby
Centre, Calgary, AB, to benefit the Calgary, AB Veterans
Food Bank, collecting 100 pounds of non-perishable food
items and hygiene products

* Stars of Wrestling presented The Last Fall on November 5
from Alameda, CA in partnership with Oaktown Sports
Productions, collecting 50 toys in a Toy Drive for UCSF
Children's Hospital and Research Center.

* New Era Wrestling returned to Denver, CO on November 5 for
Bird Brawl and a food drive for Feeding Denver's Hungry Free
Grocery Store, collecting at least 50 pounds of canned and
non-perishable food.

* New Breed Wrestling presented Suplexing for Toys, Fulton,
MO, on November 5, collecting 54 toys for SERVE, Inc.

* Midwest All Star Wrestling presented Women of Nations
Grand Slam 4 on November 5 in Oakdale, MN. 100% of proceeds
benefit Women of Nations Eagles Nest Shelter, with actual
numbers being totaled, but so far it's being termed a "very
successful event" with last year's event raising $19,000.

* Live Pro Wrestling and Battle Arts Academy presented the
Arthur Caulfield Memorial Show in Mississauga, ON, on
November 5 with proceeds going directly to Brendon Caulfield
and the Caulfield family. The event was reported as going
"...great, still calculating but raised more than expected!"


* 1CW Pro Wrestling held Fight Against Alzheimer's in
Houston, DE on November 12, raising $3,380 for local
Alzheimer's charities.

* Showcase Pro Wrestling returned to Franklin, MA on
November 12 raising over $1,000 to benefit 22Mohawks, which
works to prevent veteran suicides.

* Brew City Wrestling held its annual Headlock on Hunger
show on November 12 in Waukesha, WI collecting 2 full boxes
with 150 pounds of canned and non-perishable food benefiting
Feeding America.

* OutBreak Wrestling returned to the Hamburg Field House on
November 12, with UNITED WE SLAM; collecting TWENTY NINE
BOXES of new, unwrapped toys and books for Berks County Toys
for Tots.

* Wrestle Against Hunger returned to Tulsa, OK on November
12, collecting canned goods and other items. They give out
over $1,000 in groceries each month, serving 50 to 100
families each month, plus emergency stock on hand for those
in need.

* On November 12, POWW Entertainment returned for
Saturday Night Fights in Lombard, IL with a non-perishable
food drive for the Elk Grove Village Food Pantry.

* GCW Charity Wrestling/POP Culture Canada returned on
November 12 to Thornhill, ON, collecting canned and non-
perishable food.

* Eastern Shores Pro Wrestling finishes the year on
November 19 in Chincoteague, VA, collecting toys for the
Chincoteague Police Dept Toy Drive. Family fun and wrestling
general admission only $5. Bring a toy with a purchase of
your first general admission ticket, get 1 free.

* UWE Pro Wrestling returns to 1320 N Mitchell St, Cadillac,
MI on November 19 for the annual UWE Headlock on Hunger.
Please bring canned food, peanut butter, dry pasta/rice,
juice boxes, baby items, toiletries.

* Wrestling for a Cause returns to Wagoner, OK and presents
WFC Fight for Ava Fallout on Saturday, November 19 with a
6:00 pm bell time at the Central Intermediate School
Gymnasium, 202 North Casaver Avenue, Wagoner, OK. This is a
benefit show for a pediatric cancer patient.

* GCW Charity Wrestling returns on Saturday November 19 and
20 for Shwapocalypse with shows at Harmony Creek Community
Centre 15 Harmony Rd N, Oshawa, ON.

Shows take place on 1:00 pm bell time on both Saturday
(combined with New School Wrestling) and Sunday, with the
WILD show on Saturday at 5:00 pm ET.

TICKETS :
KIDS 12 AND UNDER ARE ONLY $5 EACH
ADULT GENERAL ADMISSION IS ONLY $10
FRONT ROW SEAT ( ADULT OR KIDS ) ONLY $15

Food Donations: Please bring canned food for the Simcoe Hall
Settlement House and enter to win fantastic prizes. One
RAFFLE ticket will be given for each can of food.

Wrestling superstars from all over Ontario will be live !
Stick around for intermission and meet your favorite
superstars! Get your limited edition GCW program and get it
signed ! Vendors will be selling t-shirts / photos and even
authentic Lucha wrestling masks !

* UWA Elite is proud to partner with Toys For Tots for their
75th Anniversary! On November 19 at #LastBreath we will be
collecting new unopened toys, books, games to distribute to
children in need this holiday season.

"UWA Elite Last Breath" takes place Saturday, November 19,
from the South River VFW (31 Reid Street, South River, NJ
08882). VIP Ringside, General Admission, and Family 4-Packs
are all available right now at discounted rates exclusively
on UWAElite.com!

* CanAm Wrestling returns to Innisfail, AB on November 19,
at the Innisfail Royal Canadian Legion, bringing a star
studded, action packed event the whole family will love.
Scheduled to appear "The Cheetahbear" Jude Dawkins, "The
Best Around" Travis Cole, "Headline" Shaun Martens, CanAm
Wrestling Women's Champion Kat Von Heez, The Prophets and
many more.

Tickets are available online at www.canamwrestling.ca, at
the ticket window at the Royal Canadian Legion #104
Innisfail, Alberta or call 403-369-3677.

Get your tickets fast, as this event will be SOLD OUT !! We
are also helping The Veterans Association Food Bank as we
are raising non-perishable food Items and new hygiene
products to stock their shelves for Christmas. Bring any of
these items & receive $5 off your ticket price at the Door.

We are also gearing up for our second year of 500 Toys for
500 Kids. Along with Nanbert Manor & the Alberta Wrestling
Academy we ask you to help us reach our goal of 500 Toys so
that together we can put a smile on kids faces this
Christmas. Please bring a new, unwrapped toy for a girl or
boy. Last year OUR INCREDIBLE FANS help us raise over 700
toys. We thank you for your continued support.

Tickets available online at CanAmWrestling.ca or by calling
403-369-3677.

* On Sunday November 20, Supreme Pro Wrestling presents:
STILL HUNGRY, their annual food drive show at Soccer World
in Elk Grove, CA. All food collected will be donated to the
Elk Grove Food Bank.

Bring a can of food to donate and help us donate more this
year than ever before to families in need, as one of two
chances to do some good for the community with SPW in
November:

On Thanksgiving morning, for the 19th year in a row, members
of the SPW family will be joining over 20,000 other people
to do the Run to Feed the Hungry, a 5k walk in Sacramento.

All proceeds from that event goes to the Sacramento Food
Bank. And for the first time ever SPW has an official team
(SPW Racing Team). If you are interested in joining us,
visit http://www.runtofeedthehungry.org to sign up. There
will be an option to join the SPW Racing Team during the
application process.

* On Saturday November 26, Titan Championship Wrestling
presents AFTERMATH from the Hoboken Elks Lodge (1005
Washington St, Hoboken NJ). 100% of the proceeds benefit The
Hoboken Elks Charities. Doors open at 5pm and bell time is
at 6pm. Advanced tickets start at $20, the day of the event
$30.

Go to www.titan-championshipwrestling.com for tickets.

* As they have done for 26 years, United Wrestling Coalition
presents a night of FREE Pro Wrestling for fans who bring
new unwrapped toys on November 26 in Bordentown, NJ. Through
generous sponsorship donations, door prize donations and
most importantly fans bringing new unwrapped toys, UWC has
managed to collect THOUSANDS OF TOYS, and more importantly
placed smiles on the faces of THOUSANDS of children through
this annual event!

Fans and wrestlers and sponsors and members of various
motorcycle groups, firehouses, people from all walks of life
- came together to make a difference. They are proud to have
spearheaded this effort and we hope you will join.

* LTW Live is back in Old Bridge for another LIVE PRO
WRESTLING EVENT this Holiday Season. Be there for LTW
Holiday Havoc, November 26 at the Old Bridge VFW in Old
Bridge, NJ.

ALL ADMISSION TICKETS STARTS AT $10 OR YOU CAN BRING A TOY
Tickets purchase and toy donation will proceed to the Toys
for Tots

* Southern States Wrestling will collect toys and canned
food items at its November 27 show at Kingsport TN's Farmers
Market Pavilion for Kingsport Hunger First, making 30
straight non-pandemic years the promotion has served its
community.

* AML Wrestling returns to Winston-Salem, NC on Sunday,
November 27 for The Day After at the Benton Convention
Center, 301 West 5th Street, Winston-Salem, NC with a 4:00
pm bell time.

The event is part of WrestleCade, with profits from the 3-
day event go to Salvation Army Christmas Toy Drive, and
raised $30,000 in 2021.

Tickets on sale NOW at https://amlwrestling.com/tickets OR
at the venue the day of the event IF they don't sell out in
advance.

Concession stand will be open! Cash, credit & debit
accepted! Plenty of parking!

Proudly brought to you by Gregg's Old Lexington Front End &
Frame Shop, Frank Myers Auto Maxx, SpiiderGriip, Nerd-
Bombers, Jocko Fuel

* HeroFest Niagara takes place on Sunday November 27 from
10am to 3pm at Americana Waterpark and Spa. .8444 Lundy's
Lane, Niagara Falls, ON, Admission : $5 for Adults .
Children 12 and under are free. If you purchase your ticket
online you will get a limited edition comic free at the
door.

Please bring canned food for your local community food bank
and get entered to win some fun prizes. One raffle ticket
will be given for each can of food.

Tell your friends and come join us for a day of fun at
Niagara's newest mini Comic con! Then stay for the GCW
Charity Wrestling event with a 6:30 pm bell time. General
Admission: $10 in advance or $20 at the door/Front Row
reserved seats $25.

* ACTION Wrestling returns to Tyrone, GA on December 2 at
the Tyrone Recreation Center for Bangers Only to benefit
Toys for Tots! They will be taking toy donations at the door
the night of the show! For tickets go to https://action-
wrestling.square.site.

* Big Time Wrestling returns to the Newark Pavilion, 6430
Thornton Avenue, Newark, CA on December 2, featuring the
annual Toy Drive, with Aaron Solo and Bobby Fish appearing.

* Showcase Pro Wrestling returns to Woonsocket RI on
December 2, with a winter clothing drive for area community
agencies.

* Wrestling With Purpose teams up with Arnold's Restaurant
to present Clash For the Kids on Friday December 2, at the
Pembroke (NC) Rescue Squad. Every child deserves to have a
Christmas present. Unfortunately, some children face
circumstances where they aren't as fortunate as others. Our
goal is to raise money and collect unwrapped toys so less
fortunate children of Robeson County will get to experience
the magic of Christmas. Christmas is a magical time and a
time of giving.

* Crossfire Wrestling presents Jingle Bell Brawl FIRED UP
2022 at Merriton Lions Clun in St. Catharines, ON on
December 3 with a 4:00 pm bell time. Partial proceeds from
the show went to the Niagara Peninsula Foundation for
Children.

* Atlantic Pro Wrestling comes to the Newburyport Elks, 25
Low Street, Newburyport, MA for an annual Toy Drive show on
December 3.

* Pure Pro Wrestling is holding a Christmas show on December
3 at Iceland Arenas in Flint, MI, where they will be doing a
raffle and taking donations for the local chapter of the
National Federation of the Blind.

* Showcase Pro Wrestling returns to Johnston, RI on December
3, with a winter clothing drive for area community agencies.

* GCW Charity Wrestling/POP Culture Canada comes to Port
Perry ComiCon on December 3: Comic Con from 10:00 am-3:00 pm
at Scugog Community Recreation Centre 1655 Reach Street Port
Perry, ON. Bring food to win prizes at Port Perry ComiCon ,
as well as the GCW Wrestling show at 6:30 pm

* On December 3, KSWA Wrestling presents Fan Fest/Toy Drive
'22.

* Total Wrestling Federation returns on December 3 to
Colonial Theatre in Sacramento, CA for Wreck The Halls to
collect toys for children at Shriner's Hospitals.

For tickets:
https://www.eventbrite.com/e/twf-wreck-the-halls-live-pro-
wrestling-tickets-418370205547?
fbclid=IwAR1W7oyhzVYfbBV5GmST0U2Xsp3hxmLedNAuvIh2NyQsxzAAl_R
Iuv5e12A

* MCW Pro Wrestling will do its annual Toys for Tots event
on December 3 at the MCW Breakthrough Taping in Joppa, MD.

* Ascend Pro Wrestling is holding its Secret Slamta on
December 3 at the Flock Sports Complex. 6630 Hamilton Ave in
North College Hill, OH, collecting toys for kids in the
Cincinnati area.

* KSWA Wrestling Presents: FANFEST / Holiday Toy Drive
Spectacular 2022 featuring Pro Wrestling Legends DEMOLITION
on Saturday December 3rd at the Langley American Legion Post
496 in Sheraden, PA with a 6:00 pm bell time.

Tickets are $20 - Front Row and $15 for General Admission.

We ask all fans that attend the event to please a new
unwrapped toy for those in need this Holiday season. The
holiday toy drive benefits the Allegheny County DHS Holiday
Project which provides toys and other necessities to
families within the county during the holidays.

Pro Wrestling Legends DEMOLITION Ax & Smash will be on hand
for the event. Autographs and pictures will be on sale.

There will be a basket auction and giveaways throughout the
night. Food, drinks for all ages, raffles and more!

* Atlantic All-Star Wrestling returns to Woodbury, NJ on
December 3 at the American Legion Post #133 1018 Washington
Avenue Woodbury, NJ; a Toys For Tots Event in coordination
with the American Legion. If you can donate, please bring a
unwrapped toy to the event to be given to needy children,
this holiday season.

Plenty of fun and entertainment for everyone. All the
wrestlers and matches will be announced, as we get closer to
the show. Tickets are $25 for front row and $15 for general
admission. You can purchase your tickets in person from our
street teams, lead by Dino Biello, Doug Biello and Michael
Tavares. Or you can go online, and purchase the tickets on
Eventbrite. https://www.eventbrite.com/e/atlantic-all-star-
wrestling-presents-christmas-b-tickets-428179214557

* GCW Charity Wrestling/POP Culture Canada comes to
Newmarket, ON on December 4 from 10am to 3pm. Admission : $5
for Adults . Children 12 and under are Free !!
TICKETS : Online (Eventbrite) & at the door. Cash Only at
the door.
If you purchase your ticket online you will get a limited
edition comic free at the door.
Please bring canned food for your local community food bank
and get entered to win some fun prizes. One raffle ticket
will be given for each can of food.

* Pandemonium Pro Wrestling returns to East Hollywood, CA
on December 4 at the Jaxx Theatre, 1089 N. Oxford Avenue for
Holiday in Hollywood, hosting a Christmas Toy Drive. Donate
toys, clothing or school supplies and enter for a chance to
win an exclusive signed poster. The show includes talent
from IMPACT, NJPW, and AEW including Serpentico, Jack Evans.

* Freedom Force Wrestling returns on December 4 with Chase
for the Gold at 225 Shalimar Street, Panama City Beach, FL
helping the Stuff The Bus Toy Drive, collecting toys for
children in the Panama City, FL area.

Come see the FIRST EVER Freedom Force Wrestling Heavyweight
Champion be decided when six men vie for the coveted gold!
Bring a toy to the door and get your ticket $3.00 cheaper
(non applicable for advanced tickets). Present your military
I.D. at the door and you and your family free general
admittance!

See Storm Thomas, as seen on AEW TV, as well as FFW regulars
Alejandro Bravo, Zane Stevens, Mr. Hickman, and many more!

Get your tickets here online at a lesser price than you
would at the door:
https://www.eventbrite.com/e/stuff-the-bus-presents-chase-
for-the-gold-tickets-211790740807

* Showcase Pro Wrestling returns to Taunton. MA on December
9, with a winter clothing drive for area community agencies.

* Colorado Springs Wrestling presents T'was The Fight Before
Christmas on December 10 with a 6:00 pm bell time at
Sunshine Studios Live, 3970 Clear View Frontage Road,
Colorado Springs, CO. Bring a non-perishable food item for a
chance to win prizes.

* Barrie Wrestling holds its annual Give Until It Hurts show
to benefit Christmas Cheer Barrie at 49 Ferris Lane, Barrie,
ON on December 10.

* Empire Wrestling Federation will hold Toys for Tots
collections at December 10 at the San Bernardino VFW Post
8737.

* Level Up Pro Wrestling will collect toys for the annual
Love Thy Neighbor Toy Drive at its December 10 show. Love
Thy Neighbor is a Southern California organization that
brings Christmas to less fortunate adults and children in
San Diego/Tijuana border areas, including toy drives.

* DCW Pro Wrestling holds a Toys for Tots event at its
Saturday December 10 show at the Delaware Auto Exchange in
Felton, DE.

* Mission Pro Wrestling returns to San Antonio, TX on
December 10 at the Salvation Army Mission Corps, 3802
Southwest Military Drive, San Antonio, TX with 6:00 pm bell
time to benefit the Salvation Army.

* Supreme Pro Wrestling returns on December 11 for
Collectible Stampede at Taqueria Guadalajara, 9 West Court,
Woodland, CA for their annual Toy Drive show.

* Smash Master Wrestling returns to Throop, PA on December
11, with a Toys for Tots collection with a 2:00 PM bell time
at Throop Community Civic Center 500 Sanderson Street
Throop, PA.

Exciting, hard-hitting, action packed, family friendly
professional wrasslin' is a time honored tradition of fun
for everyone. Step back in time with us to an age of wide
eyed wonderment as our heroes, and villains, bash, mash, and
SMASH each other until a winner is declared.

Marvel in amazement at the pomp and circumstance pageantry
and peacocking of your Smash Master Wrasslers. Feel the
excitement as the stories unfold, battles are won, and
payback is always right around the corner.

We'll have eight matches (give or take) featuring the best
professional wrasslers in all of northeastern PA, as well as
some visitors from a little bit further up the road.

Catch the action LIVE on SUNDAY DECEMBER 11 at the Throop
Community Civic Center in Throop, PA. Tickets are only $20 &
KIDS 12 AND UNDER ATTEND FREE. Bring the whole family! Bring
your kids friends! Bring the cub scout pack, the soccer
team, and the whole AYSO league!

We will also be hosting a TOYS FOR TOTS collection. Donate a
qualifying new unwrapped toy and get $10 ticket!

Doors open at 1pm and seating is first-come first-served so
be there early! The show begins promptly at 2pm so make sure
to grab your snacks on your way to your seats!

This show is a family-friendly experience and is appropriate
for all ages! Line Up and Match Announcements are being made
via our social media outlets:

http://flow.page/smashmaster
Facebook: http://www.facebook.com/smashmasterwrasslin
Instagram: http://www.instagram.com/smashmasterwrasslin

Join us after the show at Classics Bar & Grill in Scranton
for the ultimate after party experience. Get your tickets
today!

* Lucky Pro Wrestling & West Real Estate will once again
join up to help the children during the holiday season. On
Sunday morning December 11 at the West Real Estate office
(386 Main St.) in Wilmington, MA we will be collecting new &
unwrapped toys for the children in need.

With a donation of a toy or a cash donation to Toys for
Tots, fans can meet stars of LPW & more to be announced.

Scheduled to appear: WWE Legend Mr Hughes
Darley Desamot, Paris Van Dale, Sweatboy

Please visit the LPW website for more information at
Luckyprowrestling.com

* Santa Slam takes place on December 15 at the Marina
Community Center, 15301 Wocks Boulevard, San Leandro, CA
with a 7:00 pm bell time.

* Demand Lucha returns to Toronto, ON at The Parkdale Hall
1605 Queen Street West #2 on December 15 for A Very Merry
Christmas Show with a 7:00 PM bell time, featuring Super
Crazy, and Sam Adonis and including a Toy Drive for
Salvation Army's Toy Mountain.

* Northeast Wrestling returns to Bethany, CT on December 17
for Holiday Havoc and the annual Toys for Tots collection.
Ringside $30/HA $20. Bring a toy and get $5 off your ticket.

* CMW Evolution returns to Greenville, SC on December 17
with its biggest show of the year. So come on out to enjoy
this spectacle with wrestling, music, food and a Christmas
Toy Drive. Tickets are on sale now. Adults are $10, kids
ages 6-13 are $5 and kids under 6 are free.

Go to https://facebook.com/events/s/cmw-evolution-
destination-glor/556101225967946.

* Pride of Wrestling Presents POW 24 Christmas at the Bay on
December 17, with a 4:30 PM bell time at Seminole Recreation
Center 9100 113th St N Seminole, FL

After the chaotic ending of POW23 Payback, The Authority
Eddie Taurus challenged POW Champion The Modern Day
Executioner Salazar to a Street Fight for the POW
Championship .

Natalia Markova is back to recover what she technically did
not lose, the POW Women's Championship, when she challenges
POW Women's Champion The Submission Queen Persia Pierce.
Plus many more matches!.
Bring an unwrapped new toy to participate in a raffle for 2
Season Passes for POW 2023 season

* UWE Pro Wrestling returns to 1320 N Mitchell St, Cadillac,
MI on December 17 for the annual UWE Christmas Miracles.
Please bring toys, winter wear, and gift cards.

* Glory Pro Wrestling returns to the Broadway Athletic Club,
St. Louis, MO in December 18, with proceeds benefitting The
Point's annual Holiday Food Drive and Operation Food Search.

* Dangerous Adrenaline Wrestling Gladiators holds its annual
Toys for Tots show on December 24 with an 8:00 pm showtime
at the Max Fit Sport Center, 240 Delsea Drive. Glassboro,
NJ.

* GCW Charity Wrestling/POP Culture Canada presents Seasons
Beatings Tuesday, December 27, at 6:00 pm at Harmony Creek
Recreation Center, 15 Harmony Road N., Oshawa ON.
Please bring food for the Simcoe Bank Settlement House.


Until next time...

---