Absolute Intense Wrestling returns to Cleveland, OH on April 29/30
---
Posted on 4/05/121 by Absolute Intense Wrestling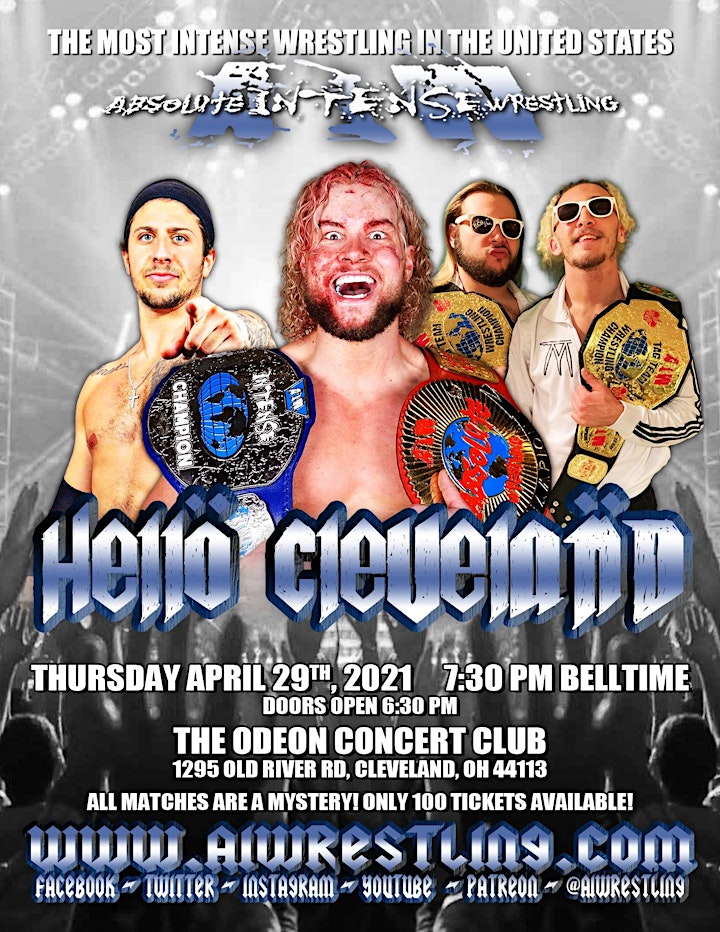 AIW Returns April 29th & April 30th With Back To Back Nights
At The Odeon!

The Odeon Concert Club
1295 Old River Road
Cleveland, OH 44113


- Only 100 Tickets Will Be Available Each Night.
- Both Cards Will Be A Complete Mystery With No Matches
Announced In Advance.
-Please Note If You Have Tickets Outstanding From 2020 Those
Will Be Honored For The Specific Event You Have Tickets For
On The Make Up Date For That Event.
Safety Protocols Listed Below
1.Ticketing
•Reduced Capacity To Allow Social Distancing (Only 100
Tickets Available)
•You May Sit With A Small Group At Your Own Risk (Tickets
available in groups of 4,2,or 1)
•All Tickets Must Be Purchased In Advance to prevent hand to
hand cash transactions
•Fans Entering The Venue Will Be Staggered To Ensure Social
Distancing
2. Health Screening
•Please Conduct A Self-Assessment Before Arriving And Do Not
Enter The Venue If You Are Exhibiting Symptoms Or Have Been
Exposed To Covid-19
•When You Arrive Your Temperature Will Be Taken And Logged.
If Your Temperature Is Above 100.4 Degrees You Will Be Asked
To Leave.
•Everyone Entering The Venue Will Be Asked A Series Of
Questions About Covid-19 Symptoms
•All Competitors, Staff, And Fans Will Be Checked Before
Entering The Venue
3.Masks
•All Staff Will Be Required to Wear A Mask
•All Competitors Will Be Required To Wear A Mask When They
Are Not Competing
•All Fans Will Be Required To Wear A Mask Upon Entering The
Venue (Exceptions For Not Wearing Your Mask Include Any Time
You Are Eating Or Drinking)
•If You Do Not Have A Mask One Will Be Provided
4. Hand Sanitizer Stations
•Several Hand Sanitizer Stations Will Be Placed Throughout
The Venue
5. Social Distancing
•Ticketing Will Be Reduced To Allow Proper Social Distancing
•Merchandise And Sponsor Tables Will Be Placed Throughout
The Venue And Spread Out To Allow Proper Social Distancing
•Seating Will Be Spread Out To Allow Social Distancing
Please Note
Failure to follow these protocols will result in you being
ejected from the event without a refund.

---