AS I SEE IT - 10/14/2002:
Some Good Stories in Wrestling This Week

by: Bob Magee
This week, some positive stories about wrestling....

The Wilmington, DE based East Coast Wrestling Alliance (ECWA), run by promoter Jim Kettner, held its 35th Anniversary celebration at its home on Saturday, October 12th at its longtime home, St. Matthews Parish Center in Wilmington, DE with about 240 attending.

The only wrestling promotions in North America to do so for that period of time are: World Wrestling Entertainment (aka World Wrestling Federation, Titan Sports, and Capitol Sports/WWWF) and Mexico's EMLL.

Since 1967, the promotion has featured home-grown talent, and well-known names such as Mick Foley, Matt and Jeff Hardy, The Dudley Boyz, Scott "Too Hotty" Taylor, Terri Runnels, Bob Holly, Kevin Kelly, Andrew "Test" Martin, Jacqueline, Christian and Edge, Kurt Angle, WCW's Billy Kidman, Devon "Crowbar" Storm, and Shawn Stasiak, and ECW's Steve Corino, Lance "Simon" Diamond, Christian York and Joey Matthews.

Since 1998, it has also features the annual Super Eight Tournament, a junior tournament that has been widely copied by many independent promotions (to the benefit of fans). The tournament has included such major names as The Amazing Red, Ring of Honor Champion Xavier, Pro Wrestling NOAH's Donovan Morgan, NWA-TNA's AJ Styles, WWE's Jamie Knoble, Jeff and Matt Hardy, new WWE signee and Zero-One standout Spanky, Low Ki, Jayson Reign, Billy Fives, NWA/ECCW's Tony Kozina, American Dragon, Reckless Youth, Steve Bradley, and "Fallen Angel" Christopher Daniels.

Saturday night's host was longtime heel manager Rocco "The Master" Mazza, who left the ECWA after a number of years fronting various heels to go into New Jersey party politics.

Tributes were presented to "All-American" Jeff Peterson, whose battle with cancer over the last 2 years has been reported on a number of times in AS I SEE IT, longtime Northeast independent heel manager Barry Casino whose hasn't been in the best of health recently, and longtime babyface staple Boogie Woogie Brown; along with WWE's Kevin Kelly, who worked a heel manager program 2 years ago.

ECWA alumni that attended the Anniversary party included: Ace Darling, former ECW star Simon Diamond, former ECWA wrestlers Vince Goodnite, The Commando, Dirty Dirk Dunlap, Mike Mayhem, Mike Clark, Dr. Destruction, Dazzling Donny Love, Iron Man, and current independent star Devon "Crowbar" Storm.

ECWA wrestlers attending the Anniversary party included: NWA-TNA standouts sensations Low Ki and The S.A.T., longtime (anyone notice how often the word "longtime" applies in this promotion?) babyface star Cheetah Master, Carlton Hightower, Mr. Ooh La La, Buck Wylde, Billy Bax, Japanese Pool Boy, Xero, Mozart Fontaine, Sebastian Night, The J Team, Thunder, Billy K, Chuck Ristano, Ruffhouse Rivera, Inferno, E.S. Easton, Jonny & Joey Maxx, Johnny Heartbreaker, Prince Nana, Rob Echos, Chris Divine, Quiet Storm, Tyler Payne, Striker, Xavier, commissioner Richard Naegele.

Next...as most of you have already read, Brian "Spanky" Kendrick and James "Little Guido" Maritato were signed this past week by WWE, to appear as part of their Smackdown show.

Spanky will complete at least a final Zero-One tour prior to starting with WWE. There's no word if either will be permitted to complete any other scheduled independent bookings prior to beginning with WWE.

This is great news for both of them...especially for Guido, given how far back I've seen him.

Despite a all-too-frequent comedy gimmick as the "Sicilian Shooter", Guido Maritato was one of the most legimately well rounded performers in ECW history. With a strong amateur wrestling/shootfighting component as a part of his in-ring work, through training by the legendary Billy Robinson, he competed in Japan's UWFI.

If you're a REAL old time ECW (Eastern Championship Wrestling) fan.... back in the bar show days in 1992, prior to even Eddie Gilbert's tenure as booker; you'll remember that he was involved in the promotion's first real feud with Tommy Cairo.

Back in 1992...long before he did the FBI gimmick and when only a handful of fans were aware of his UWFI background...right around the time that Eric Lindros was awarded to the Flyers (instead of the Rangers) Guido was introduced as from New York City, and wore a Rangers jersey. The crowd reacted as any good Flyers fans (and smart fans smelling a good angle on something) would react.

Guido got monster heat out of that simple little thing. Cairo saw the heel crowd reaction to Guido, looked back at Guido and in a moment, started playing with it on the spur of the moment and created ECW's first feud.

The brand-new ECW, having just picked up the ashes of Joel Goodhart's TWA, had a feud for months...just off something as simple as that.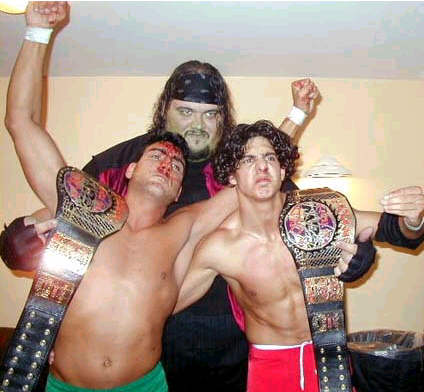 Guido continued on with ECW as part of the "Full Blooded Italians" together with Tony Mamaluke, "Big Sal E. Graziano" and other occasional assorted bit players like Tracy Smothers, Tommy Rich, and JT Smith as associate/semi-official "Italians". He held the ECW Tag team titles twice with Tracy Smothers in 1997, and Tony Mamaluke in 2000.

Most recently, he's worked the Northeast indy circuit, including ring of Honor, where he put over Tony Mamaluke in match on October 5th that signaled to many fans that the rumors were true, and that Guido was, in fact going to WWE.

So now Guido is heading to the big show. Congratulations to him for this big step forward.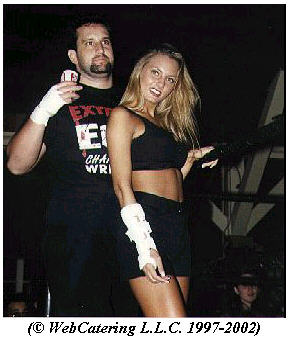 Finally this week, Tom Loughlin (aka Tommy Dreamer) married Theresa Hayes, known by most readers as Beulah McGillicutty of ECW fame.

This has been an interesting relationship, begun by such romantic in-ring moments as piledriving his lady love to be in the middle of a Bingo Hall full of hormonally-charged young men.

In all seriousness, Tom Loughlin has been cited (by Paul Heyman himself) as having been the "conscience of ECW" during the company's existence. He put his body on the line for ECW time after time after time, during which he worked one of the most memorable and longest lasting programs anywhere in wrestling...the 2 1/2 year feud with Raven.

Along with his work in the ring, Loughlin did much behind the scenes, and was put in the position of explaining away the company's financial problems and bounced checks to the ECW locker room for months on end, before the company's demise two years ago.

Fortunately, he's been able (presumably with Paul Heyman's help) to secure a job with WWE, and is one of the more respected people in their locker room as well.

Now he's got the happiness her deserves in his personal life as well.

Congratulations to Tommy and to Theresa....
Until next time...
_________________________________________________________
(If you have comments or questions, I can be reached by e-mail at bobmagee1@hotmail.com)