AS I SEE IT - 10/07/2002:
Rival Promoters Join Together in the Philadelphia Indy Wars

by: Bob Magee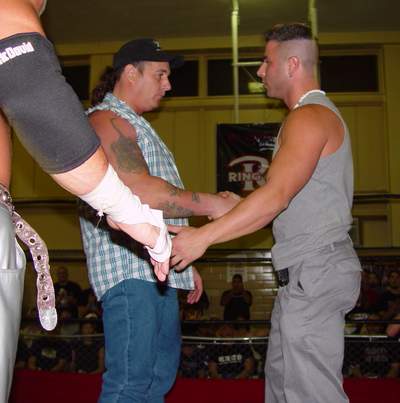 OK...so it wasn't exactly Yassir Arafat and Ariel Sharon shaking hands at the peace table...

But for Philadelphia wrestling fans, it was just about as unlikely, to watch two rival promoters such as Combat Zone Wrestling's Zandig and Ring of Honor's Ron Feinstein shaking hands as in the picture above.

Even more unlikely, was the sight of two rival promoters with totally different product styles actually doing the smart thing for business, rather than feeding their own egos.

Last week, I suggested that readers e-mail CZW, Ring of Honor, and 3PW and tell them the following:

"...for two of the three major Philadelphia-based independents to run against each other [on November 9th]..blocks away from each other...is just plain nuts.

It will also be the second time it has happened, counting this past month when 3PW and Ring of Honor ran against each other.

I've spoken with CZW's Zandig, as well as Gabe Sapolsky and Rob Feinstein of Ring of Honor, asking why one or the other can't run an afternoon show on November 9th. All three seem uncomfortable with the idea. I can't make up my mind how much of it is a desire for competition, or if it is just a legitimate fear to do something different.

In my opinion... like it or not, it's time for the Philadelphia-based independent promotions to start thinking like the businesses they have to be. Regardless of their personal or business differences (and there are many of each between these promotions).... the fact is that for the moment, there is a player in the Philadelphia market who is prepared to lose tens of thousands of dollars on a show - Rob Zicari....

The fact that Rob Zicari can afford... the considerable expenses of the 8/31 show; suggests that it is incumbent upon those promoters who have to run their promotions like businesses, instead of tax write-off opportunities for porn profits... that they need to start working with each other, at least enough to keep themselves from being put out of business by a man who seems to be running his shows for a tax write-off and a ego boost.

For those of you who live in the Philadelphia area, or regularly travel to it for the shows of CZW, Ring of Honor and 3PW, here are the three public e-mail addresses of these Philadelphia-based independent promotions.

Ring of Honor: RFVideo1@aol.com

Combat Zone Wrestling: CZWWrestling@comcast.net

Pro-Pain Pro Wrestling (3PW): Info3PW@aol.com

Tell whoever you e-mail that you're tired of having to choose between independent shows that are four blocks away from each other, both of which typically feature talent that you really want to see on both shows taking place on the same night. Not just once, but continually.

Tell them that you want to see the thriving locally-based Philadelphia independent wrestling market survive, and not cannibalize itself...so that fans wind up being left with only occasional 'sports entertainment' shows, and with a carpetbagging promotion that seems to only be interested in its own personal and corporate egotripping; and not one damned bit interested about the independent tradition that's been alive in Philadelphia since the late 1980s."

Apparently you were heard.

Apparently two men decided to be businessmen as opposed to doing what all too many independent wrestling promoters do...feed their egos, and screw their fans and performers in the process.

Feinstein and CZW came to an accommodation where the Ring of Honor show was moved to a 5:00 pm start, so that CZW fans can go to the CZW show at the ECW Arena (five blocks away) shortly afterwards.

The October 5th Ring of Honor featured a full house, with people still filing in during the first and second matches, due to local parking problems (youth football was being played in the area).

From all reports, the XPW show down the street did not.

First, the XPW show started an hour late, due to pre-show meetings with several officials of the Pennsylvania State Athletic Commission regarding the content of the last show.

PWBTS reporter Eric Walker estimated a crowd of 450, about half of what he estimated the last show drew (it should be noted that many fans estimated a lower crowd at the August 31st show). A representative from the State Athletic Commission who stopped by the Ring of Honor show estimated a paid crowd of 200 at the XPW show.

Even XPW's own (apparently inflated) claim of 700 for Saturday's crowd is down 25 percent from what they claimed to have drawn the last time.

Whatever the actual numbers were, the crowd was clearly less than the promotion's last show.

It should be noted that both shows did 10 bell counts and moments of silence for Ted Petty, as they should have.

It appears that Philadelphia fans voted, so to speak, with their dollars and their bodies to support locally-based promotions rather than certain other promotions.

Now let's see if 3PW will join in to keep the Philadelphia-based independent wrestling promotions from fighting each other.

Go to the above e-mail addresses.

Tell CZW and Ring of Honor thank you for being smart businessmen, and for allowing you to see two quality independent shows on the same day.

E-mail 3PW, and ask them if they can come to some agreement with Ring of Honor and CZW as well, so as to make things easier for Philadelphia wrestling fans, and for each other.

Now that at least part of this dream seems to have happened for Philadelphia independent wrestling fans...how about another one for wrestling fans from a far wider area?

For our next impossible wrestling dream... how about Undertaker putting over Brock Lesnar clean at the Hell in the Cell match... and for HHH to put over a younger, more deserving talent all on the same No Mercy PPV?

Nah.

There's probably room for only one impossible dream in a month.

Forget the idea of someone doing the right thing for business twice in a month... especially if he's the concubine of the booker (who also just happens to be the owner's daughter).

Until next time...
_________________________________________________________
(If you have comments or questions, I can be reached by e-mail at bobmagee1@hotmail.com)