AS I SEE IT - 9/17/2002:
Throwing Down a Gauntlet... Philadelphia Indy Wars

by: Bob Magee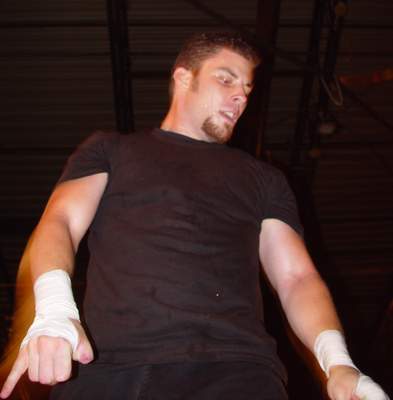 (Credit: Mark Pantalone)

In the long tradition of real-life inter-promotional feuds...there have few cases of one promotion throwing down the gauntlet at another in as public a manner...as happened Saturday night at the ECW Arena.

Readers here have been following the summertime saga of Rob Zicari's XPW coming into the Philadelphia independent market... seemingly against Combat Zone Wrestling, RF Video's Ring of Honor and 3PW, in ways that go beyond normal business competition.

On September 14th, one of those three fought back.

Ending the September 14th CZW show at the ECW Arena, a match between CZW's Wifebeater and Sick Nick Mondo vs. IWA Mid-South's Necrobutcher and "Mr. Insanity" Toby Klein wound up with the usual insanity that ends a CZW show...including barbed wire boards, tables, chairs, and 2 sides of the ropes laced laced with carpet tacking strips, not to mention a pane of auto glass and a few light tubes.

Then, in a post-match run-in, The Messiah made his return to the ECW to thunderous chants from the Arena crowd, almost miraculously after the incident that nearly cost him his wrestling career and his life... as he was assaulted by two men who cut off his thumb, hit him with an aquarium and stabbed him in the leg, in an apparent attempt to cut off his penis.

Messiah got the mike and began by saying that it was good to be home.

Then the promo heated up, as he pointedly told the crowd that the Arena was "CZW's home", not of "another promotion running this building", referring to XPW.

Messiah talked about his thumb being taken off "not being any work" showing the stump of where his thumb was cut off by assailants, and told the crowd that while he wouldn't "point the finger at anyone"; he made the point that "the man who sent the two assailants hadn't gotten the job done". He said 2 or 3 times that "I'm not accusing anyone", but made obvious who he thought was responsible.

Loud "F@#k Rob Black" chants broke out.

Messiah announced that the America's Most Wanted episode featuring his assault would be airing soon. More on that later.

Messiah then took a shot at Shane Douglas, referring to the person who says he's now "carrying the company on his back," and talked about "carrying XPW for two years", talking about matches with Sabu, Chris Candido, and others during his time with the company; a run that ended after a reported relationship with Black's wife Lizzy Borden, later acknowledged from the ring at an EPIC Pro Wrestling show in California.

Messiah wound up his promo in a tip of the cap to kayfabe, by talking about how "what happens in the ring stays in the ring", but that he knew that on the street everyone in CZW was like his brother, and would watch his back.

Then, totally (and appropriately) tossing kayfabe out the window... the CZW locker room, including opposing heel "owner" Lobo and real life owner Zandig, emptied and came into the ring with loud Messiah and CZW chants. Doomsday Danny Rose grabbed a large "F@$# Rob Black" sign from the crowd, brought it in, and held it to the crowd making sure everyone saw it as the CZW theme music played to end the evening.

If there was any doubt that the company's locker room (and many other locker rooms) are united behind Messiah, there wasn't after witnessing this moment. On a recent NWA-TNA PPV, the always colorful Trent Acid made sure he gave a heads-up to Messiah giving Messiah's trademark of two fists together with pinkies extended...immediately into the camera, with one of the most serious faces I've ever seen him have.

For those of you able to view CZW's Fake You TV in the Philadelphia or Virginia/North Carolina TV markets, it's reported that Messiah's promo (likely edited) will air Thursday, October 4th at 10:00 pm in Roanoke, and at midnight in Philadelphia. Check here for CZW TV listings.

It will also be interesting to see if the other two major independent promotions in the Philadelphia have anything to say this weekend. Both Ring of Honor and 3PW are running this Saturday in Philadelphia with shows taking place four blocks apart from each other.

Ring of Honor at the Murphy Recreation Center features Ring of Honor champion Low Ki defending his ROH Title against Xavier, Pro Wrestling NOAH's Michael Modest vs. fellow NOAH wrestler Takao Omori, Jay Briscoe vs. The Amazing Red, American Dragon vs. Steve Corino; and the Ring of Honor tag team tournament with Ikuto Hidaka and Dick Togo vs. James Maritato and Tony Mamaluke, Natural Born Sinners vs. Da Hit Squad, Christopher Daniels & Donovan Morgan vs. The SAT, and Paul London and Spanky vs. Chris Devine and Quiet Storm.

3PW at the ECW Arena features the independent debut of Sean Waltman against Sabu, Abdullah The Butcher vs. Kevin Sullivan, "The Pitbull" Gary Wolfe defending his 3PW Heavyweight title against Rocco Rock, Joey Matthews & Christian York against "Dastardly" Danny Doring and the returning Roadkill, The "Shah" Hack Myers returning to the ECW Arena against IWA Mid-South's "Sexy" Ace Steel, Blue Meanie vs. Chris Chetti, White Lotus vs. Josh Daniels, C.M. Punk vs. Colt Cabana.

While Ring Of Honor isn't likely to say anything about XPW's presence in the market, believing their best strategy to be concentrating on their own product... the next scheduled show for XPW runs directly opposite ROH's October 5th show featuring Low Ki vs. Samoa Joe and the UK's Doug Williams going against "Fallen Angel" Christopher Daniels.

Dave Meltzer also reported, in this past week's print Observer, of there being heat between XPW and Ring Of Honor over XPW's claims that ROH had agreed to allow XPW to use their Pennsylvania state license and a $10,000 surety bond for the 8/21 XPW show. Both Ring of Honor and The Hartford (the insurer of record) deny any such agreement was made, and The Hartford stated that XPW had falsified RF Video/ROH's address as their own on the bond.

There's no word on what 3PW may have to say regarding the matter, although it is known that there has been heat between these companies as well; stemming from reported incidents prior to the 8/31 Philadelphia show where XPW falsely claimed to a 3PW Philadelphia ticket sales location to have made agreements with 3PW in order to use this location. Other issues come from 3PW's Jasmin St. Claire experience working for XPW in the promotion's early days.

In a related note, America's Most Wanted will be running the previously reported segment about the attack on William Welch, better known as Messiah... this Saturday, September 21st.

America's Most Wanted Correspondent/Producer Tom Morris, Jr., and Show Consultant (and WWE writer) Keith Greenburg are involved in the story; which is reported to contain footage including an interview with New Jack and the now famous incident when they showed up at the offices of Extreme Associates, the pornography company owned by XPW owner Rob Zicari, and found the doors to the offices and warehouse mysteriously closed during a business day.

It is also reported that America's Most Wanted may reveal major new information about the case, including possible news on forensic information related to the case, and news related to identification of the possible suspects.

America's Most Wanted airs on FOX network on Saturday, September 21st, at 9:00 pm EDT/PDT. Check here for the FOX affiliate in your area.
Until next time...
_________________________________________________________
(If you have comments or questions, I can be reached by e-mail at bobmagee1@hotmail.com)