AS I SEE IT - 7/29/2002:
A Famous Wrestling Son Returns a Mother's Lifetime of Support
by: Bob Magee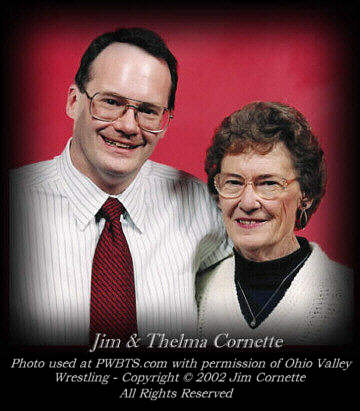 One of my favorite people in the entire wrestling business is Jim Cornette.

There are few, if any, funnier and better storytellers in wrestling. If such people exist anywhere, I haven't met them.

There are also few more talented people around in professional wrestling. He's run two of the most well-known old-school promotions around, Smoky Mountain Wrestling, and Ohio Valley Wrestling.

I first met Jim Cornette back about 12 years ago when he first worked for Philadelphia independent promoter Joel Goodhart. Cornette will remember that visit, especially if anyone who sees him asks him about the story of the infamous watermelon truck (let him tell the story...it's quintessential Cornette).

He's also responsible, along with the late Brian Hildebrand, for two of the most enjoyable vacations of my life with the Smoky Mountain Wrestling Fanweeks in 1993 and 1994.

Along with the various shows we all traveled to during that week...there were the Q&As and the down time between shows filled with stories of Cornette's time in Bill Watts's Mid-South/UWF... such as the story that includes Jim Ross protecting Bill Watts's brand new Rolls Royce duting a fan riot in Tulsa; and his time in NWA/WCW... which included being asked by Jim Herd and Ole Anderson to wear a pumpkin at Halloween Havoc 1990 in Chicago.

Cornette's Christmas cards are also among...well, the world's most unique, as anyone who knows of his legendary warped sense of humor would figure.

Well...as you've likely heard, Jim's going through a very rough time right now.

As has been reported on PWBTS.com, mentioned in this past week's Ross Report, and in this week's print edition of the Observer; Cornette had been taking time away from wrestling to take care of his seriously ill mother Thelma Cornette, who had been diagnosed in April with lung cancer. Despite receiving chemotherapy, Mrs. Cornette's cancer spread quickly.

Word came from Miss Pamela of Ohio Valley Wrestling that Mrs. Cornette passed away last Saturday morning.

As a result, Ohio Valley Wrestling will not be taping any new television for a period of time until their debut at their new home facility, and to allow Jim to mourn the passing of his mother.

Many longtime wrestling fans remember Cornette's frequent storyline use of his mother in Bill Watts's Mid-South and UWF, Jim Crockett's NWA and Ted Turner's WCW; as the rich mother who would pay all of Cornette's various fines for various misdeeds (blown off with the trademark line "that's just a phone call home to my mother"); and allow him to "get great talent" like the Midnight Express, and the various heels he'd bring in to help him and the Midnight Express against the babyface of the day.

Mrs. Cornette was often the butt of on-air jibes by babyfaces designed to get Cornette mad, including the time that the Rock 'n Roll Express brought out a picture showing "Mamma Cornette" as a dog in glasses wearing a blonde wig, or the t-shirts in SMW depicting her with a pigface.

In real life, Mrs. Cornette happily allowed her name to be used to get Cornette's character over for years, contributing greatly to the career of one of wrestling's best talkers, best managers, and most unique promoters.

I recently went back and watched a tape of the Q&A from SMW Fanweek 1994, when Cornette talked about his childhood as a wrestling fan, and being encouraged by his single mother (his father passed away when Cornette was 8 years old).

Cornette said on the tape "She's always been supportive and everything...she knows I'm going to do something weird...she was just happy it was semi-legal".

But it went far beyond that.

Thelma Cornette allowed young Jim to feed his imagination by letting him go to the homes of various relatives, and watch wrestling...lots of wrestling.

He was able to see the television from Dick The Bruiser's Indianapolis territory, Nick Gulas's various programs from Chattanooga, Nashville, and Memphis, the last years of The Sheik's Detroit territory, Joe Cazana's Southeastern Championship Wrestling... and two shows that the adult Jim Cornette would later appear on as a professional: Jim Crockett's World Wide Wrestling, and Georgia Championship Wrestling on a brand new cable station, WTCG...which would become Superstation WTBS.

As he got a little older, Mrs. Cornette traveled to the Wrestling Fans International Association conventions with her young son back in the late 1970s.

Later she supported him as he wrote programs, worked as a photographer, and did, as Cornette put it: "any kind of stooge work I could" in the early 1980s. Cornette joked that it helped that "the business was going so well back then, and I was selling so many photographs, that I was making more money then I am now [in 1994]."

She even worked the gimmick tables back in the early 1990s in Smoky Mountain Wrestling, and supported her son's love for one of the most unique artforms around.

It seems sadly appropriate that Jim Cornette dropped wrestling for awhile to be with a mother who supported her son's love for the wrestling business for most of her lifetime...and his.

It should be noted that Jim Cornette didn't seek to make his personal life public; or ask for the public sympathy he's received over the last week. Aaron Wilson, who sends Ohio Valley Wrestling spoilers, was the first to mention Mrs. Cornette's illness public, followed two days later by Jim Ross's Ross Report.

But Lord knows he and his mother both deserved it.

If you wish to e-mail a note of sympathy to Jim, please click here and it will be delivered to him personally.

Mrs. Cornette's funeral is on Wednesday at 2:00 pm. People can send flowers to the following address: Thelma Cornette, Rest Haven Funeral Home and Memorial Park, 4400 Bardstown Rd., Louisville, KY 40218

My thoughts and prayers, and the thoughts and prayers of everyone at PWBTS, and all those who read this column go out to Jim Cornette and his family in this difficult time.
Until next time...
(Picture on top of this column is used with permission of Ohio Valley Wrestling, copyright 2002)
_________________________________________________________
(If you have comments or questions, I can be reached by e-mail at bobmagee1@hotmail.com)