AS I SEE IT 6/10/2001
by: Bob Magee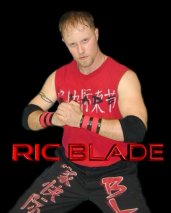 This special column is to involve readers in an attempt to help a fallen wrestler who badly needs your help...Ric Blade.

From Sunday's CZW Weekly e-newsletter:

"...Near the end of the contest, Blade set Pain up on a stacked set of tables and climbed to the top of the wall by the entrance way, which is a good 20 feet up. After connecting with the swanton bomb, Blade landed unusually on the ground with his left leg and let out a blood curdling scream. He was on the ground and unable to move at all without pain.

EMT's rushed out to tend to Blade as his wife, Shorti, looked on in tears. Once being assisted to the back it was immediately known that something was seriously wrong with his leg and ankle. Right away it was plain to see that something had broken, but it would be unable to tell what until he was taken to the hospital.

Flanked by several CZW superstars, Blade was rushed to a nearby hospital by an ambulance. Once there, X-rays revealed that he had suffered a compound fracture in his shin. One crew worker even had said that 'if he (Blade) were to try to stand up, his foot and ankle would have been dangling.'

The bone was attempted to be set back into place, but due to the nature of the break, it wasn't able to be done correctly..."

Blade had performed the move before without incident. But ironically, much of the reason he overshot Pain this one time was in an attempt to protect him.

He will be going into surgery this morning to have metal plates inserted in his leg to help the shin heal. He will be off his feet for about six weeks and a return to the ring won't be realistic for about six months.

Blade has been working weekly in independents throughout the Northeast over the last two years; including CZW, Pennsylvania Wrestling Federation, Liberty All-Star Wrestling, Jersey All-Pro Wrestling, and the Eastern Wrestling Federation.

Along with being an incredibly talented worker, he's a class young man. When Combat Zone Wrestling and Big Japan Pro Wrestling developed their business relationship last year, he was worried....about offending his hosts, because he doesn't drink. He's held in such high regard, that the entire CZW locker room more or less treat him like family.

For all of you who are wrestling fans, and not just fans of a promotion, I'm personally asking you to take the time to help Blade and his family through this time of personal and financial distress. Blade and his wife are expecting their first child shortly, and his injury will certainly have an effect on the family finances at a time they can least afford it.

There are two ways which you can send good wishes or contributions to benefit Ric Blade have been after this serious injury.

An e-mail address has been sent up for those of you who would like to send get-well wishes to Blade. This e-mail address is cerberus113@juno.com.

A postal address has also been set up to send actual get well cards and sympathy greetings, as well as any contributions you may have for Ric Blade and "Shorti".

The postal address for contributions is:

Ric Blade and Shorti
c/o CZW Weekly
339 Fry Avenue
Robesonia, PA 19551

A design for a t-shirt (with proceeds from sales going to Blade's family) is also being put together. As we get the information regarding where it can be purchased, it'll be reported here and on many other websites.

Please take the time to help out, even if it's only to send good wishes to this young man and his wife. It'd be appreciated.

I'll be back later in the week with my regular column.
_________________________________________________________
(If you have comments or questions, I can be reached by e-mail at bobmagee1@hotmail.com)