AS I SEE IT - 5/05/2003:
On May 10, celebrate a "decade of defiance" at the ECW Arena
by: Bob Magee
Back on June 11, 2002, I first speculated in my AS I SEE IT column that it would be nice to see Philadelphia area independent promotions remember the fact that May 14, 2003 would bring the tenth anniversary of professional wrestling at the ECW Arena.

Eight months later, I again outlined some of my ECW Arena memories here, remembering the strange looking building that became the world's most famous Bingo Hall...the building that truly became the ECW Arena.

From May 14, 1993 to December 23, 2000, ECW created 7 1/2 years of unparalleled magic in one of the most improbable locations ever to hold wrestling on a regular basis.

If someone had told us back in 1993 that this fledging wrestling promotion owned by a center city pawnbroker, would make its home in this improbable place... would be seen nationwide on cable television... would go on PPV from it in 1997... would have wrestling fans around the world chanting "ECW...ECW...ECW", to this very day...no one would have believed them.

But that's exactly what happened.

Since ECW's departure, Combat Zone Wrestling became the most successful of the independent promoters running the ECW Arena since ECW's departure; debuting there in December 2001 with their annual Cage of Death show. The promotion has been running monthly at the Arena since then (with a two month interlude during which XPW ran the venue exclusively).

As the promotion that has inherited the most famous Bingo Hall in the world, along with the renegade spirit it has symbolized to wrestling fans, CZW will celebrate the tenth anniversary of wrestling at the ECW Arena, as it returns on Saturday, May 10th for "Then and Now: Celebrating a Decade of Defiance".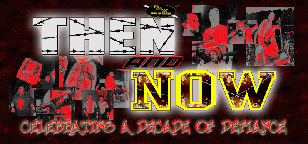 Matches officially announced so far are:


CZW WORLD HEAVYWEIGHT CHAMPIONSHIP-FANS BRING THE WEAPONS (no barbed wire or light tubes...bring anything else, even the kitchen sink)
Nate Hatred vs. The Messiah


IRON MAN TITLE MATCH
Johnny Kashmere challenges "Sick" Nick Mondo


GRUDGE MATCH
Homicide vs. Trent Acid


LADDER MATCH (#1 Contender for CZW Junior Heavyweight Title)
Ric Blade vs. Sonjay Dutt


CZW JUNIOR HEAVYWEIGHT CHAMPIONSHIP
Chris Ca$h vs. Ruckus


B-Boy vs. Tony Mamaluke


Rockin Rebel/Greg Matthews vs. Ian Knoxx/Adam Flash


Deranged vs. Grim Reefer vs. Smoked Out
Tickets are available, and may be reserved by calling (856) 742-7061, by emailing beaners_13@yahoo.com or by using the CZW Online Ticket Reservations System at http://www.czwwrestling.com/Tickets/vikinghalltickets.html.

(NOTE: All online or phone orders/reservations for tickets to LIVE CZW events must be paid in full prior to the night of the event for which the ticket was purchased. Payment is accepted in the form of cash or money orders ONLY!)

General admission tickets are also available at these remote ticket locations:

Pennsylvania outlets


Somerton Beverages, 13510 Bustleton Avenue, Philadelphia, PA - Call (215) 673-1900 for information


Ontario Street Comics, 2235 Ontario Street, Philadelphia - Call (215) 288-7338 for information.


Bulls-eye Dart Supply, 4740 Frankford Avenue, Philadelphia - Call (215) 831-0860/(877) 409-3591 for information.


Berwyn Tavern, 625 West Lancaster Avenue, Berwyn, PA - Call (610) 889-9352 for information.
New Jersey outlets


Hall of Heroes
Echelon Mall - Call (856) 772-9703 for information
Cherry Hill Mall - Call (856) 662-9329 for information


Play With This Collectable Toys/Pennsauken Mart- Call (856) 486-4556 for information.


Innersoul Body Piercing, 2c Creek Road, Brooklawn, NJ (across from West Brook Bowling Alley) - Call (856) 742-7001 for information.

Fans will also be traveling down from the Boston area, courtesy of Pro Wrestling Tours. Their trip will leave from the Kappy's Liquor Store parking lot in Medford, MA (10 minutes outside Boston), at 8:00 am on May 10th. The price for the trip is $65.00, which includes tickets to the event and travel to and from Philadelphia.

Boston fans that are interested in attending this trip or have any questions, can check out PW Tours.com or contact James Quinlan at ProWrestlingTours@hotmail.com

May 10th will, no doubt, be an occasion for fans and friends from the old days of the ECW Arena, who've never seen a CZW show, to use this occasion... to run into some old faces and relive old and unique memories that only those who were there live could know...


Those Sunday morning TV tapings from 1993-1995, when we stumbled into the Arena half-awake after too little sleep following the preceding evening's show and the post-show "festivities"...and Mark Shapiro (aka "McGruff") telling us to "please fill up the bleachers"... in order to make the crowd look respectable for SportsChannel and MSG, the two stations carrying ECW at the time.


A small discount store next to the Arena, selling cheap breakaway frying pans, with the slogan, "Give them to your favorite wrestler to hit someone"...


The "bleacher bums" over in section C with some of the most creative (and sometimes unprintable) chants imaginable, along with their summer pre-show afternoon cookouts and beer bashes...


The Mutants From Boston, who regularly traveled down to ECW Arena shows...


The people who made the dream happen in the earliest days... a group of hardworking people behind the scenes, who would do nearly anything for the company, people that we all got to know like Bob and Lex Artese, Jay "Six-Pack" Sulli, Larry Gallone, Kathy Fitzpatrick, Kathy Donahue, Steve Truitt, and Matt Radico...


Along with them in the stands were unique Philadelphia characters like "Stan The Fan", John Bailey (known everywhere as "Hat Guy"), his brother George, Mike Johnson and the Bleacher Bums, "Sign Guy" Paul Mellows (from whom Paul Heyman took the Sign Guy Dudley gimmick), Lennie (the Rob Zombie lookalike), Gary Walter, and many more...


And for longtime fans...names from the other side of the rail that only we would remember: Doug Gilbert, Kevin Christopher, Don E. Allen, JT Smith, Tony Stetson, Larry Winters, Tommy Cairo, Hack Myers, Salvatore Bellomo, Stevie Wonderful, Johnny Hotbody, Chad Austin, Dudley Dudley, Dances With Dudley, and Pablo Marquez.


That magic moment on April 13, 1997, one that ECW fans had waited for since the last year's worth of rumors had started finally arrived...fans waited outside the ECW Arena, even camping overnight...until 8:00 pm EST, when Joey Styles went hot from the converted Bingo Hall that was ECW's home, as "Barely Legal" went live...

For all of you that remember those things and more...who haven't been to the old place at Swanson and Ritner for a while, take some time Saturday night and come back for a visit...relive some memories.

Come see those who've inherited this famous building, and make yourself new memories.
Until next time...
_________________________________________________________
(If you have comments or questions, I can be reached by e-mail at bobmagee1@hotmail.com)