AS I SEE IT - 4/23/2002:
The Passing of a Legend... Wahoo McDaniel
by: Bob Magee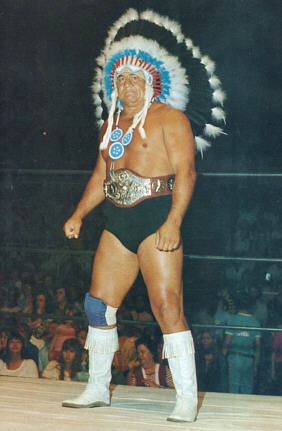 As most readers know by now, wrestling legend Wahoo McDaniel died last week at the Cy-Fair Medical Clinic in Houston as a result of longtime complications from renal failure and diabetes, finally succumbing to a stroke on Thursday. McDaniel had been suffering from severe kidney problems for over four years, which required dialysis. He was on a waiting list to receive a kidney transplant at the time of his death.
McDaniel was one of the most well known legitimate Native American wresters, as opposed to the many wrestlers of various ethnic ancestry that portrayed Native American characters. He paved the way for legitimate Native wrestlers like Jay Youngblood, Mark Youngblood, and Chris (Tatanka) Chavis to portray their characters as something beyond the cartoon character image often associated with other such characters.
Along with former NWA World Champions Bronko Nagurski, Wayne Munn, and others from the classic era of wrestling, and more recent names ranging from Ernie Ladd to Brian Pillman; McDaniel made the move from professional football to wrestling, after a career with the Los Angeles Chargers, Miami Dolphins, Houston Oilers, Denver Broncos, and New York Jets, and a college career with the University of Oklahoma during the late 1950s.
McDaniel's football teammates remembered him this past week. Larry Csonka and Jim Kiick, who were McDaniel's teammates shared colorful remembrances in the Miami Herald.
"'Wahoo was a great practical joker who loved to laugh at himself as well as others,' Csonka said. 'He was colorful, and he was especially hard on the rookies. Whether it was [heat rub] in the jockstraps or critters in your shoes, Wahoo did it all.'
Kiick said he remembered a moment from his rookie year in 1968, McDaniel's last year on the team.
'We went out drinking in Buffalo, me and Wahoo and John Bramlett,' Kiick said. 'At the bar, this other guy comes over and Bramlett starts aggravating this guy, egging him into saying how wrestling is fake and just a big show...
So as this is going on, I'm looking at Wahoo and he's getting mad because he really believed in wrestling. All of sudden, Wahoo jumps on the table and jumps on the guy and all I'm thinking is, `I'm a rookie and I can't afford to miss curfew.' "
McDaniel's feuds over a 20 plus year career included Blackjack Mulligan, Ric Flair, Terry and Dory Funk, the Ivan and Nikita Koloff, Arn Anderson, Tully Blanchard, Nick Bockwinkel, and Sgt. Slaughter working throughout the Texas, Florida, Georgia, Mid-Atlantic and Mid- South territories.
Few of his feuds were as legendary as his programs with Johnny Valentine, that ended tragically by the October 1975 plane crash that ended the career of Valentine and Bob Bruggers, nearly ended the career of Ric Flair, the life of the pilot and less serious injuries to Tim "Mr. Wrestling" Woods and David Crockett.
Their feud has such meaning to long-time fans, and those who only got to view it via video tape and film, because of the realism that these two wrestlers could communicate in a match. In an era where sports entertainment wins out over the art of telling a story, this simple art stands out more and more every day.
Former wrestler David Isley explained in Wrestling Classics.com the kind of feelings that McDaniel could give someone who was first a fan...then got into the business because of what he saw on the other side of the rail:
"When I was growing up I had very fond memories of 'Chief' in many classic strap matches against Ric Flair, Angelo (Big Nasty) Mosca and the late Johnny Valentine. Wow, I could feel those beatings all the way down in my ringside seat at the Asheville, NC Civic Center on Sunday afternoons.
Later, after I broke into the business, what a real joy to work with this man that I had always looked up to as a kid. I loved sitting in the locker room with 'the boys' and hearing a lot of Chief's war stories.
Nellie [Nelson Royal], Swede [Hanson] and now Chief, I'm not sure how much more of this I can stand. I know we all must go, but this is never easy.
As I sit here at my desk wanting to cry, but holding it back, I can see Chief with a fishing pole in his hand and talking with "the boys", Murdoch, Gene Anderson, Nellie, Swede, Tex, Rufus and Jay Youngblood.
What a battle royal that would be!! I have always missed Bob Caudle saying, 'another big tomahawk chop by McDaniel'."
McDaniel's long list of titles included:
1 Florida Heavyweight title in 1967
1 Texas Heavyweight title in 1970
2 NWA American Heavyweight championships
3 NWA American Tag Team titles (one with Thunderbolt Patterson, and two with former rival Johnny Valentine)
5 Mid-Atlantic Heavyweight titles (1975, three times in 1976, and in 1978) 2 Southwest Heavyweight championships
1 Southwestern Championship Wrestling Tag title (with Terry Funk)
2 NWA Southern Heavyweight championships
2 Georgia Heavyweight titles (twice in 1979)
1 Georgia Tag title (with Tommy Rich) in 1979
1 NWA Florida TV Title in 1981
4 NWA United States Heavyweight championships (1981, and twice in 1982, 1984)
1 NWA Georgia/National Heavyweight title in 1986
4 NWA World Tag Team Titles (once with Paul Jones in 1975, once with Rufus R. Jones in 1976, and twice in 1984 with Mark Youngblood)
I only saw McDaniel only a few times live, including at one of the first Crockett/WCW shows at the Philadelphia Civic Center. He formally retired in 1989.
McDaniel's last Philadelphia area appearance was at the 1994 Slamboree PPV at the Philadelphia Civic Center as part of the Legends Introduction along with Ole Anderson, Penny Banner, Red Bastein, Tully Blanchard, The Crusher, Don Curtis, Terry Funk, Verne Gagne, Hard Boiled Haggerty, Larry Hennig, Killer Kowalski, Ernie Ladd, Angelo Mosca Sr, Harley Race, Ray Stevens, Lou Thesz, Mr. Wrestling II, and Tommy Young.
McDaniel then worked the 1995 Slamboree at St. Petersburg, Florida's Bayfront Center, pinning Dick Murdoch.
There will be a memorial service Saturday, April 27 for Wahoo McDaniel 2:00 pm CT at the Pipkin Funeral Home, located at 2508 North Big Spring Street, Midland, Texas 79705. The funeral home has stated that the service is open to public and it is appropriate to send flowers.
McDaniel's daughter Nicky Rowe told the Associated Press that the family will cremate McDaniel's body and scatter the ashes over a lake near Del Rio, Texas, once a favorite fishing spot for McDaniel and his father.
But whatever's happening on this earth, I imagine that he and Johnny Valentine are already in a ring up there in Heaven... a place where neither Wahoo or Valentine are in pain, and can throw those stiff chops and punches again...amazing everyone that's watching yet one more time.
Condolences go out to the family, friends, and fans of Wahoo McDaniel from all of us at PWBTS.com.
Until next time...
(Photo from The Mid-Atlantic Wrestling Gateway Wahoo McDaniel Photo Albums, Title history from Professional Wrestling Online Museum and Puroresu.com,
quotes from Miami Herald and Wrestling Classics.com)
_________________________________________________________
(If you have comments or questions, I can be reached by e-mail at bobmagee1@hotmail.com)